Vendor contract Review & Negotiation
Quadrangle has reviewed and negotiated thousands of vendor contracts for some of the most sophisticated firms in the investment management industry. Our technology combined with financial and legal expertise provides a comprehensive solution, including contract negotiation, custom term-by-term reporting, analytics, document storage, and more.
Preferred economic and legal terms.
Quantifiable savings of time and money.
Mitigated legal and economic risk.
Secured access to your contract terms.
Quadrangle extracts and analyzes a multitude of different vendor contracts, including fund administrators, data providers, research, IT, trade systems, and more. We provide access to digitized, term-by-term reports, highlighting terms that can be improved, with direct links into the associated document(s). Easily access terms and compare across vendors.
VENDOR
CONTRACT NEGOTIATION
After highlighting terms that can be improved, our legal team negotiates new and existing contracts with your vendors to achieve upgraded terms, focusing on saving money and mitigating risk. With our unique combination of data, technology, and expertise, our negotiation process is efficient and cost-effective, and you can be confident in the strength of your contract terms.
CLOUD-BASED
VENDOR DOCUMENT STORAGE
QDS is an information hub that stores, tracks, and manages your vendor documentation, providing secured and on-demand access. Our dynamic dashboards, customized reports and organizational tools create actionable analytics and promote business continuity.
vendor contracts we review & negotiate
Audit/Tax
Consultant
Compliance
CRM
Cyber Security
Data Provider
Data Warehouse
Digital Asset Service Providers
Expert Network
Fund Administrator
Independent Director
Investor Portal/VDR
IT
Legal (onshore and offshore)
Outsourced CFO
Outsourced Trading
PEO
Process Agent
Professional Services
Proxy Firm
Public Relations
Real Estate
Recruiting
Research
Risk Management
Third Party Marketer
Trade Systems
Treasury Systems
A Look Inside: Vendor Contract Negotiation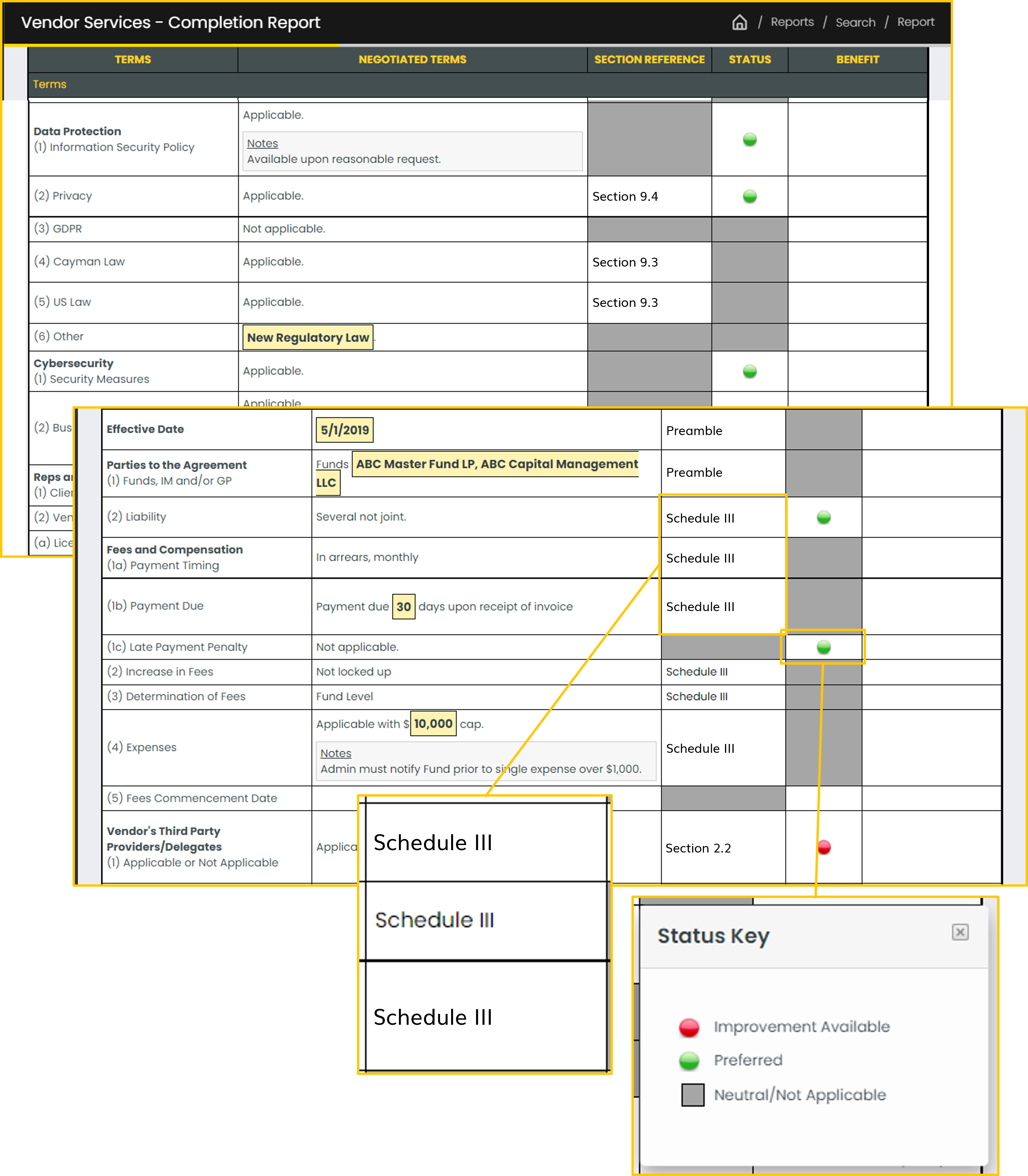 Quadrangle extracts and analyzes each term in new and existing vendor contracts, like the fund administration contract shown here, against our

 

extensive database,

 

flagging terms that can be improved.
Quadrangle's term-by-term reports provide immediate and searchable access to your terms.
Section references

 

point to the terms in the contract itself, and the status indicates whether a term can be improved.
Our legal team

 

negotiates

 

your contracts with your vendors to

 

achieve preferred terms,

 

saving money and reducing risk.
contact us for a consultation