QDS Platform:
Contract Management Software
QDS is our proprietary contract management software which enables firms to focus their time and energy on their businesses. With single-click tools and embedded links, QDS can increase efficiency, expand capabilities, and improve informed decision-making.
Accessibility from anywhere at any time with appropriate permissions.
Real-time comparison against indexed industry data.
Secure and on-demand access to contracts and terms.
Ability to generate actionable reports from unique or periodic queries.
Access to market intelligence and industry/peer data.
Enhanced productivity of employees.
Multi-level permissioning that allows each user to view only what is pertinent to their role.
Streamlined

connectivity

between internal and external teams.

Integration with other systems.
Maintenance of business continuity

through personnel changes.

Custom, automated alerts.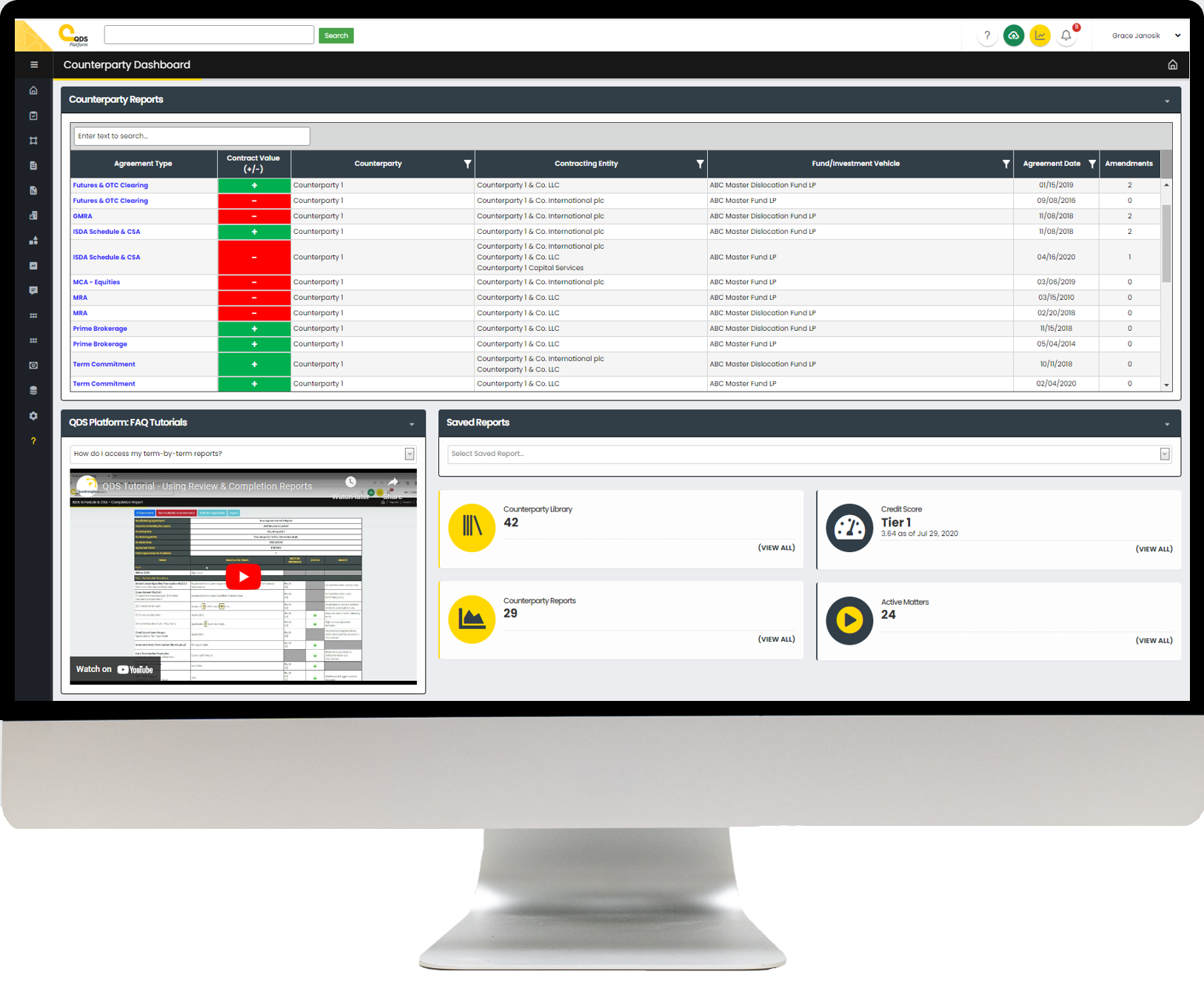 Counterparty Management Dashboard
View critical counterparty information at a glance, with single-click access to term-by-term reports, counterparty documents, and active matters.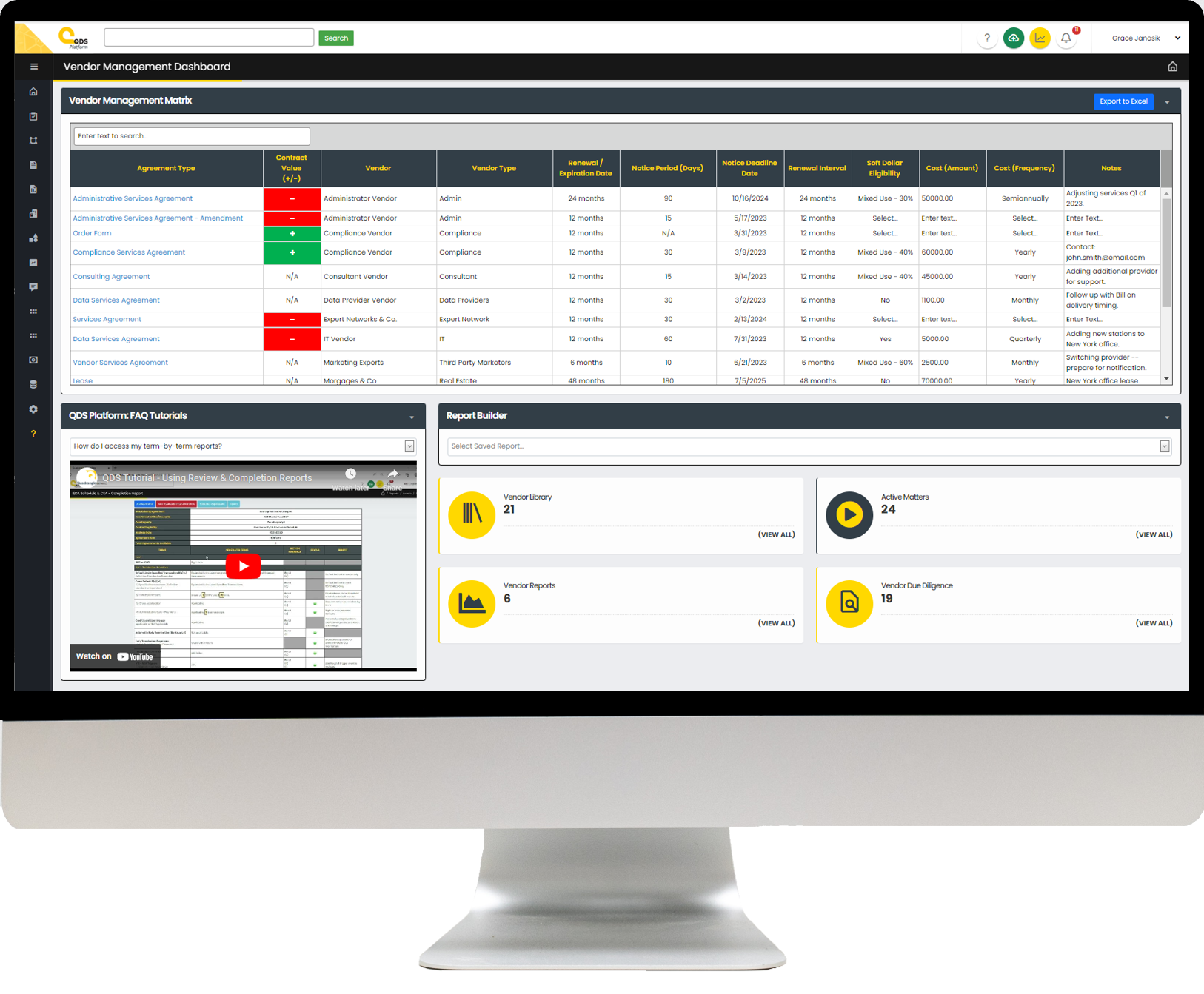 Vendor Management Dashboard
View critical vendor information including notice dates and renewals at a glance, with single-click access to term-by-term reports.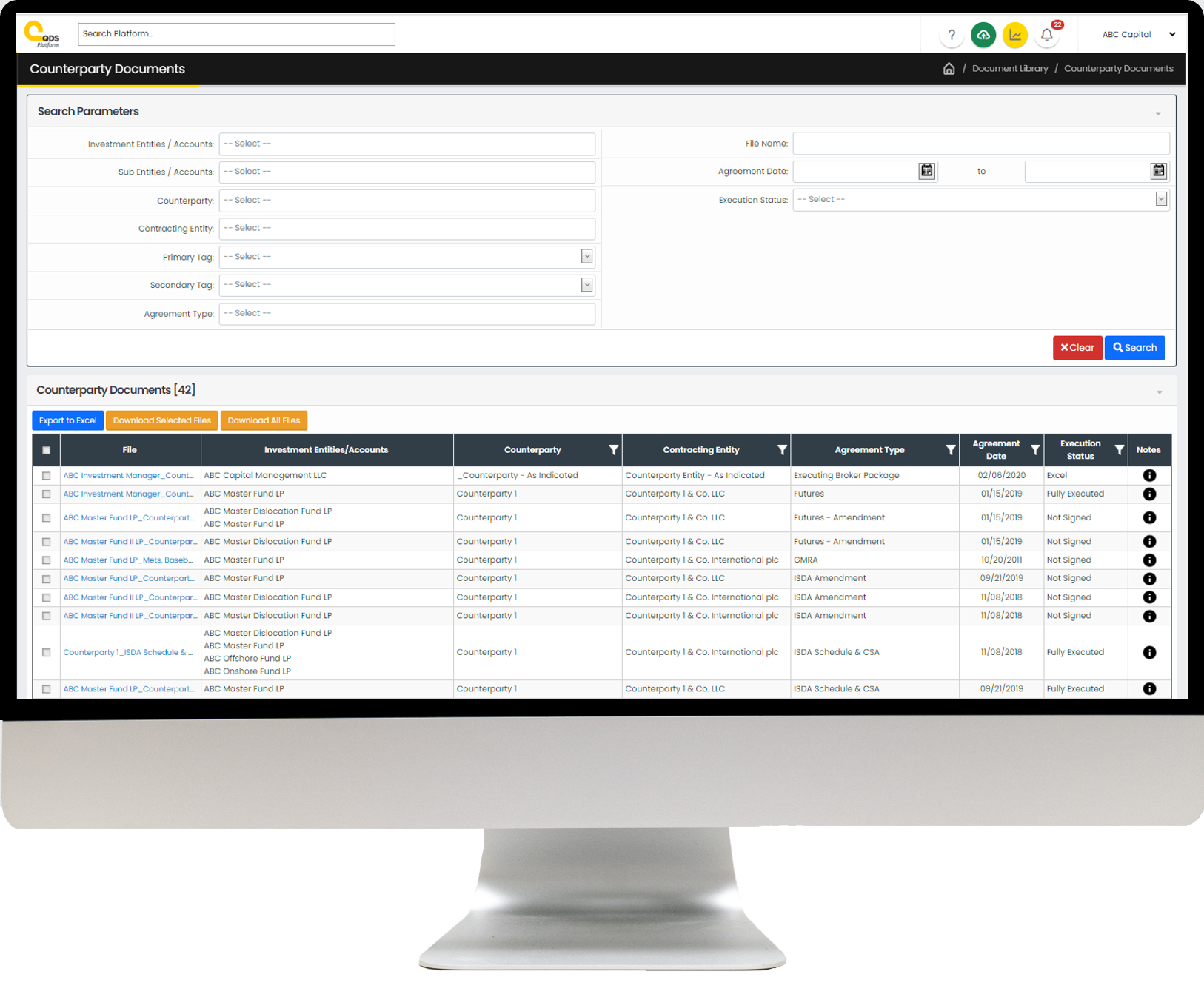 Document Libraries
Counterparty, vendor, investment entity and account, and company documentation are stored in searchable document libraries.
A Look Inside: Counterparty Management
Dashboard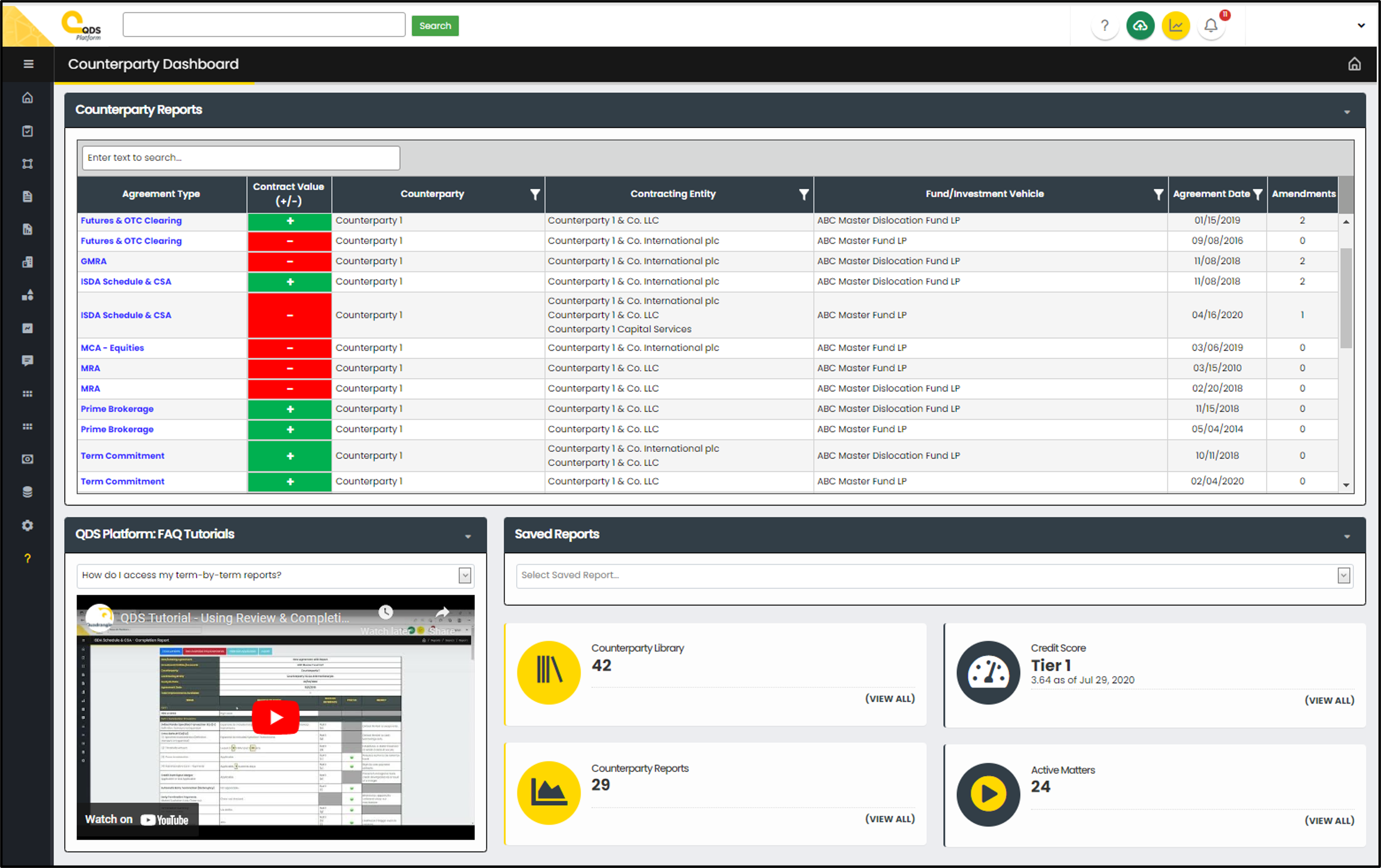 View critical counterparty information at a glance on the Counterparty Management Dashboard and click directly into term-by-term reports and agreements.
Easily compare number of off-market terms in your agreements to the industry.
Access custom reports via the Report Builder tool through Saved Reports.
The links at the bottom right provide easy access to counterparty documents, counterparty reports, Workflow, and our Credit Score tool.
A Look Inside: Vendor Management Dashboard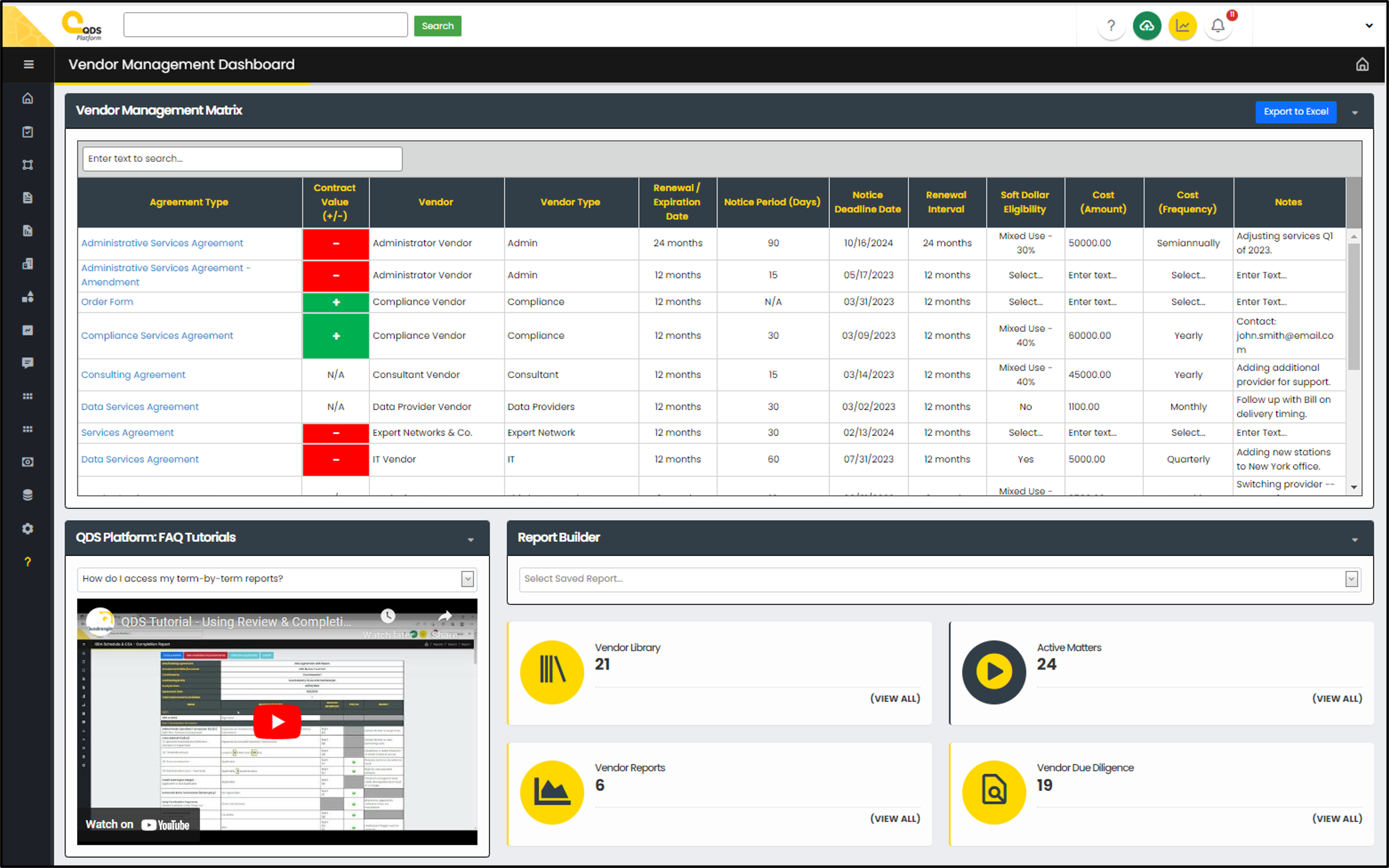 View critical vendor information at a glance on the Vendor Management Dashboard and click directly into term-by-term reports.
Renewal dates and notice deadlines are extracted and synced directly with your Outlook calendar.
Customize the dashboard by entering soft dollar eligibility, cost amount, cost frequency, and notes.
Option to export the Vendor Management Matrix to Excel.
The links at the bottom right provide easy access to vendor documents, vendor reports, Workflow, and vendor due diligence module.
A Look Inside: Document Libraries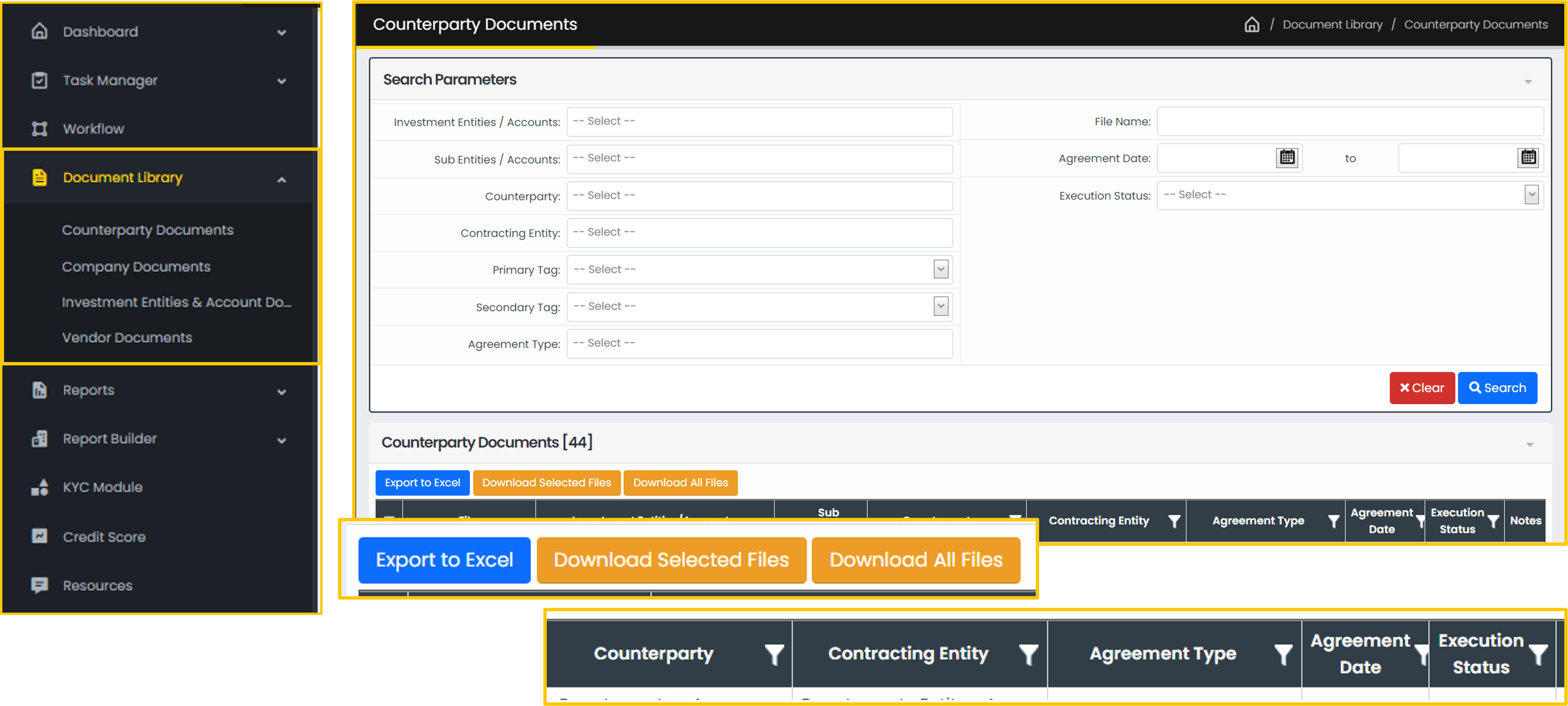 Store your counterparty, vendor, investment entity and account, and company documentation on QDS.
Your dedicated engagement team consolidates your inventory to identify duplicates and gaps.
Each document is tagged and stored into one of four Document Libraries: (1) Counterparty Documents (2) Company Documents (3) Investment Entity & Account Documents (4) Vendor Documents.
Search results are filterable, with options to export your inventory, and download files.
Notice, renewal, and expiration dates are tagged, with reminders centralized in a Notification Center and synced with Outlook.
Quadrangle works with your team to develop normalized naming conventions to clearly identify documents by file name.
QDS offers secure access to your documentation from anywhere at anytime, with the ability to permission users at different levels within your firm.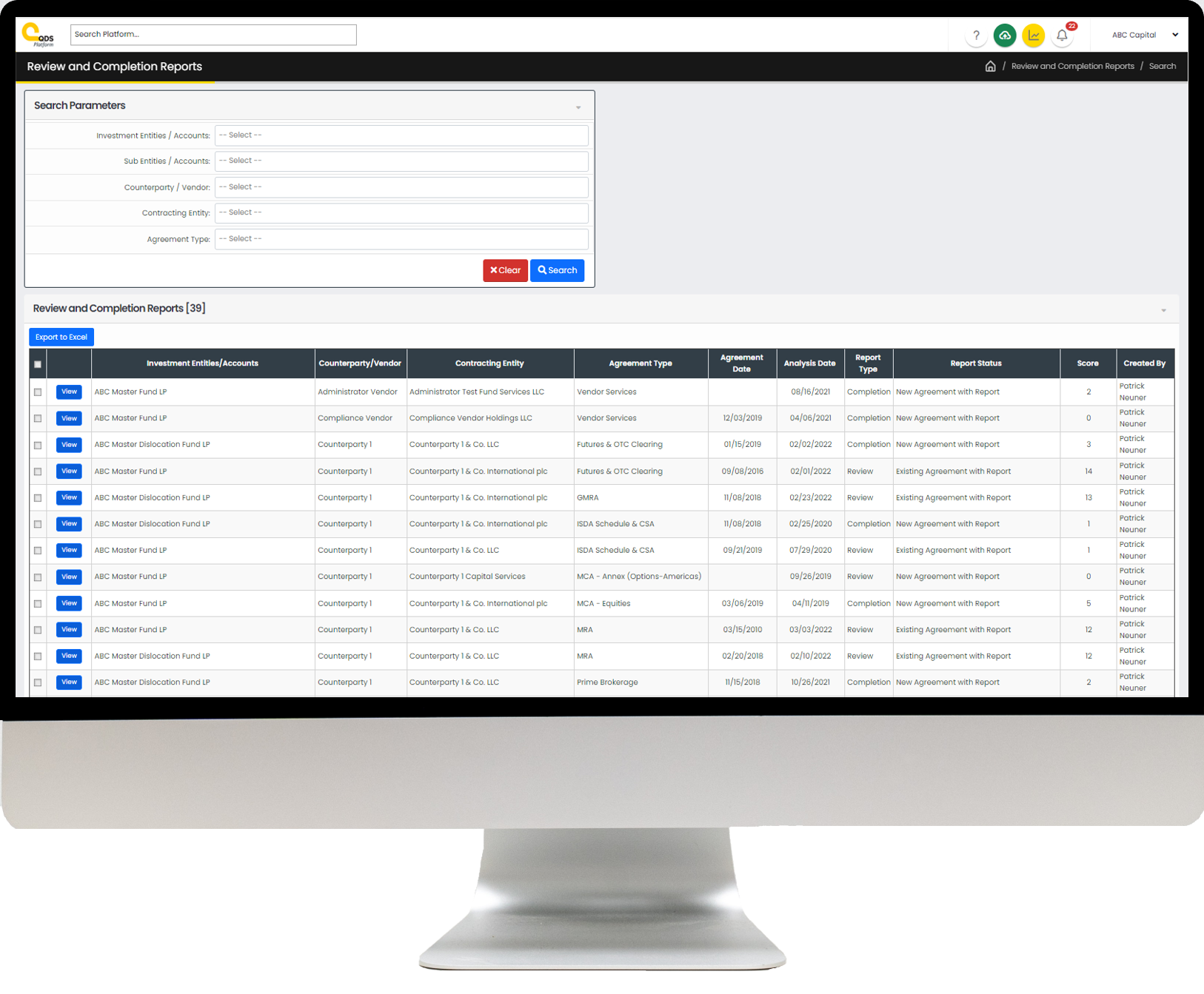 Report Library
Access the term-by-term review and completion reports for your counterparty, vendor, and investor documentation.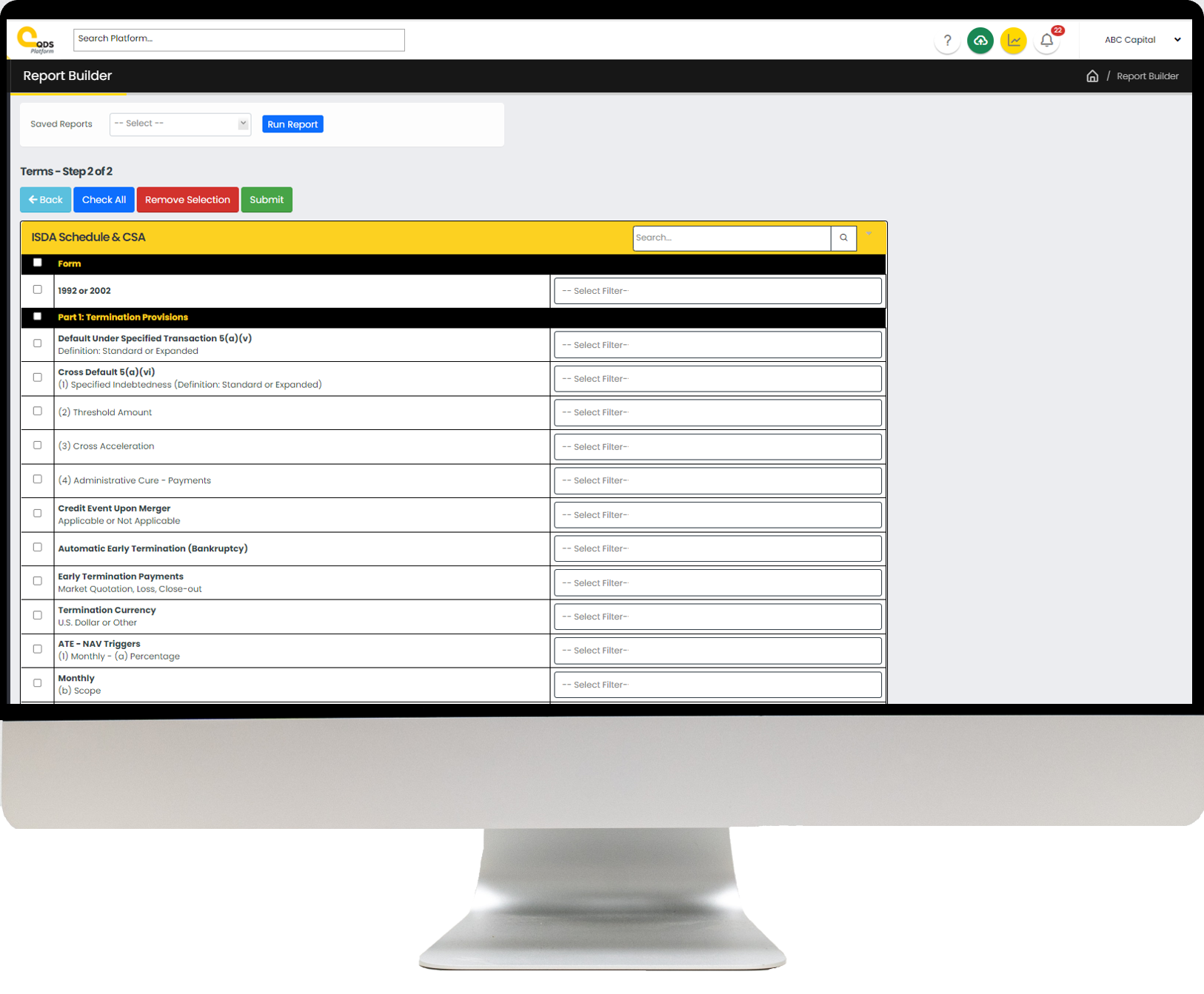 Report Builder
Create and save custom reports across all your benchmarked terms, with ability to narrow the search by specific term(s), fund, counterparty, or vendor.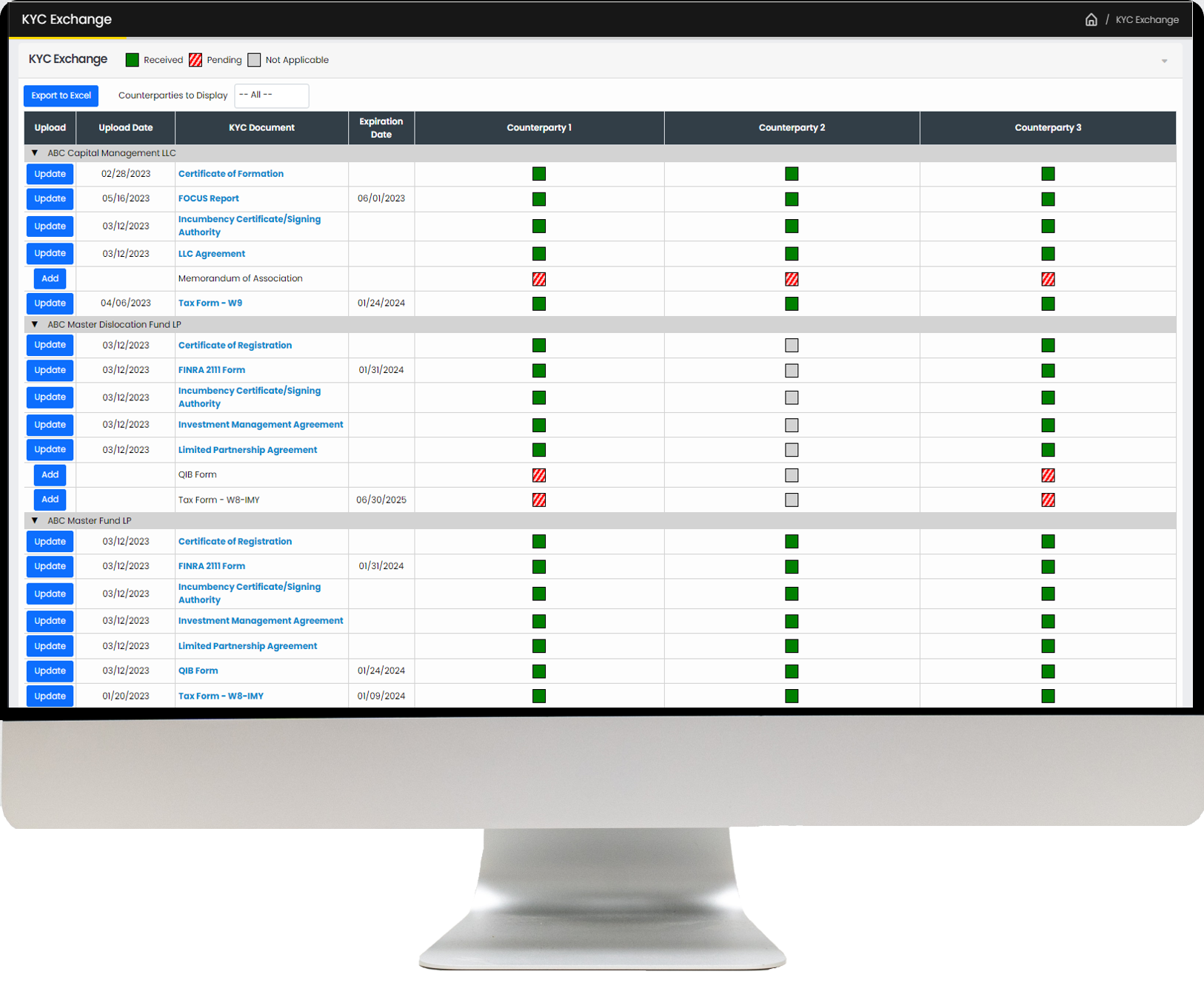 KYC Exchange
Send KYC and onboarding materials to your counterparties and vendors, with permissioned access and activity logs.
A Look Inside: Report Library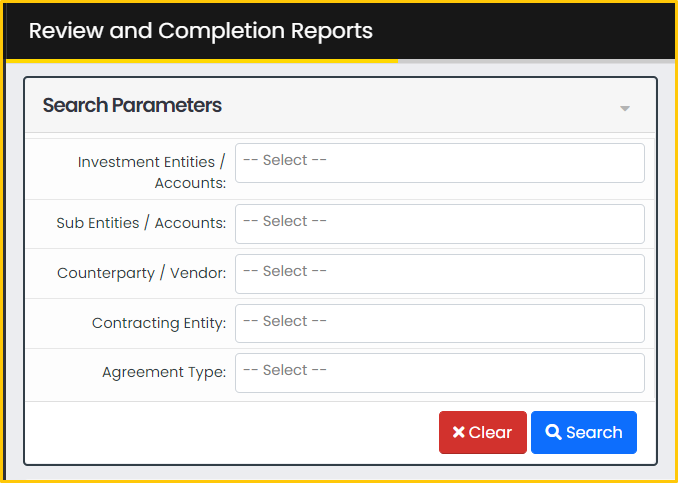 The Report Library stores your term-by-term review and completion reports.
Narrow your search using the search parameters or conduct a universal search.
Click 'View' to access individual reports.
Select line items to export to Excel.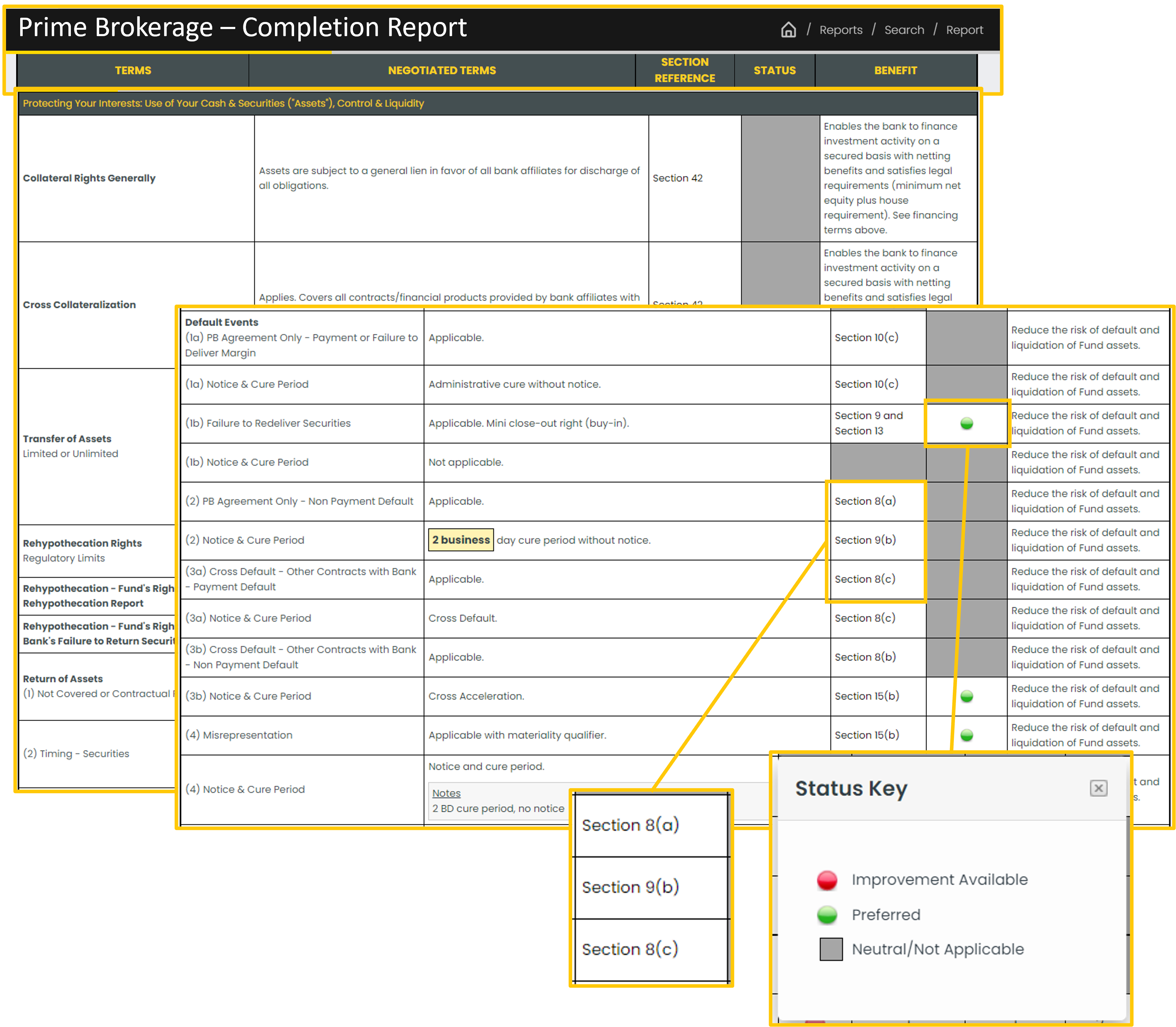 Reports break down and automatically benchmark contracts term-by-term.
Review reports reflect new or existing executed agreements.
Completion reports reflect agreements post negotiation, like the Prime Brokerage Completion Report seen here.
Ability to view linked agreements.
Filter to view "Available Improvements" only.
A Look Inside: Report Builder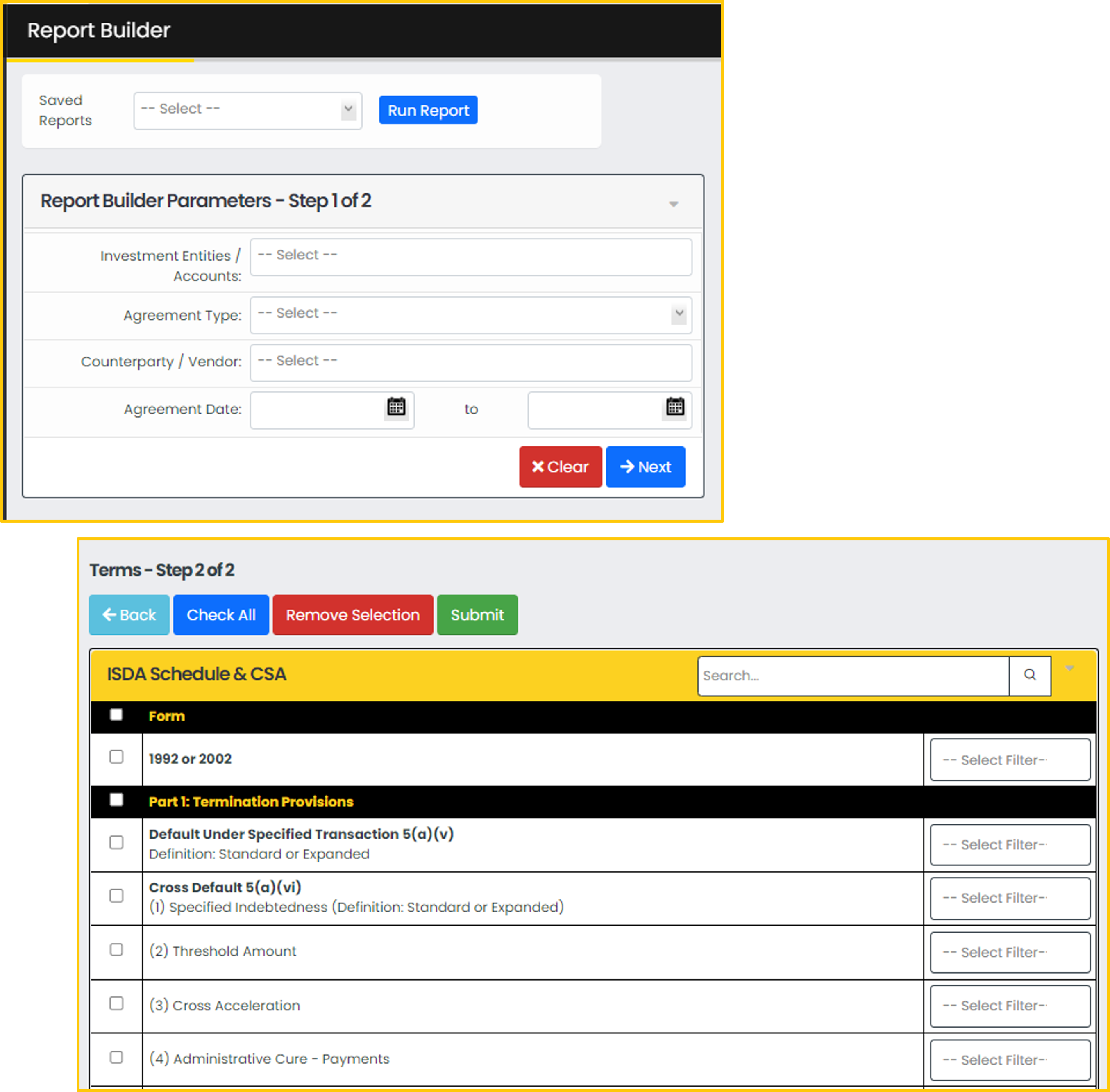 Run customized queries across your extracted & benchmarked terms.
Narrow your search by (1) Investment Entities/Accounts, (2) Agreement Type, (3) Counterparty/Vendor or (4) Agreement Date Range. Leaving a field blank will assume "all."
Search for individual terms by keyword, and select the contract terms to include in the report. Or "Check All" to select all terms.
Results can be saved to run again and/or exported to Excel.
Comparison reports comprehensive side-by-side view of all report terms for a specific product / agreement type across all applicable reports.
Select the desired 'Agreement Type.'
Exportable from side-by-side view to Excel.
A Look Inside: KYC Exchange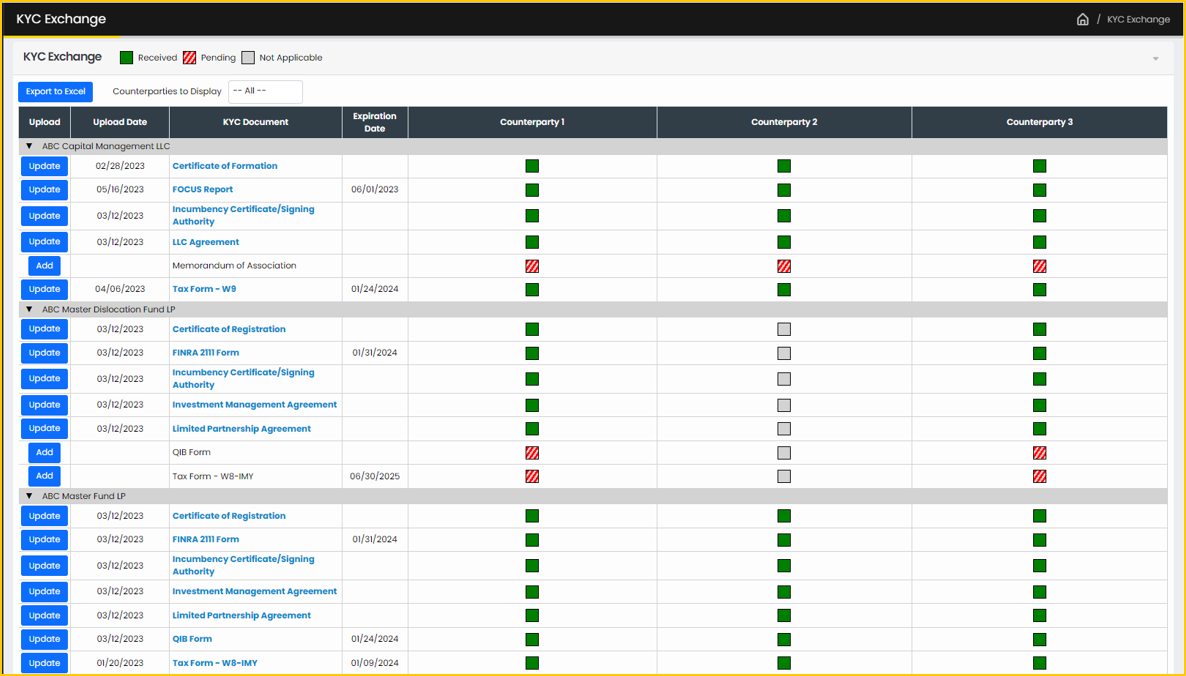 Firms can view status of KYC document exchanges with their counterparties organized by fund.

Green indicates the document is securely uploaded and accessible by the counterparty as permissioned.

Red indicates the document is a pending onboarding requirement to be uploaded.

Gray indicates the document is not applicable for that counterparty.
Click 'Add' to upload documents, select expiration dates and automated Outlook reminders.

Select the counterparties and permission users to receive that KYC Document.

Files can be uploaded from your computer or by selecting documents from QDS.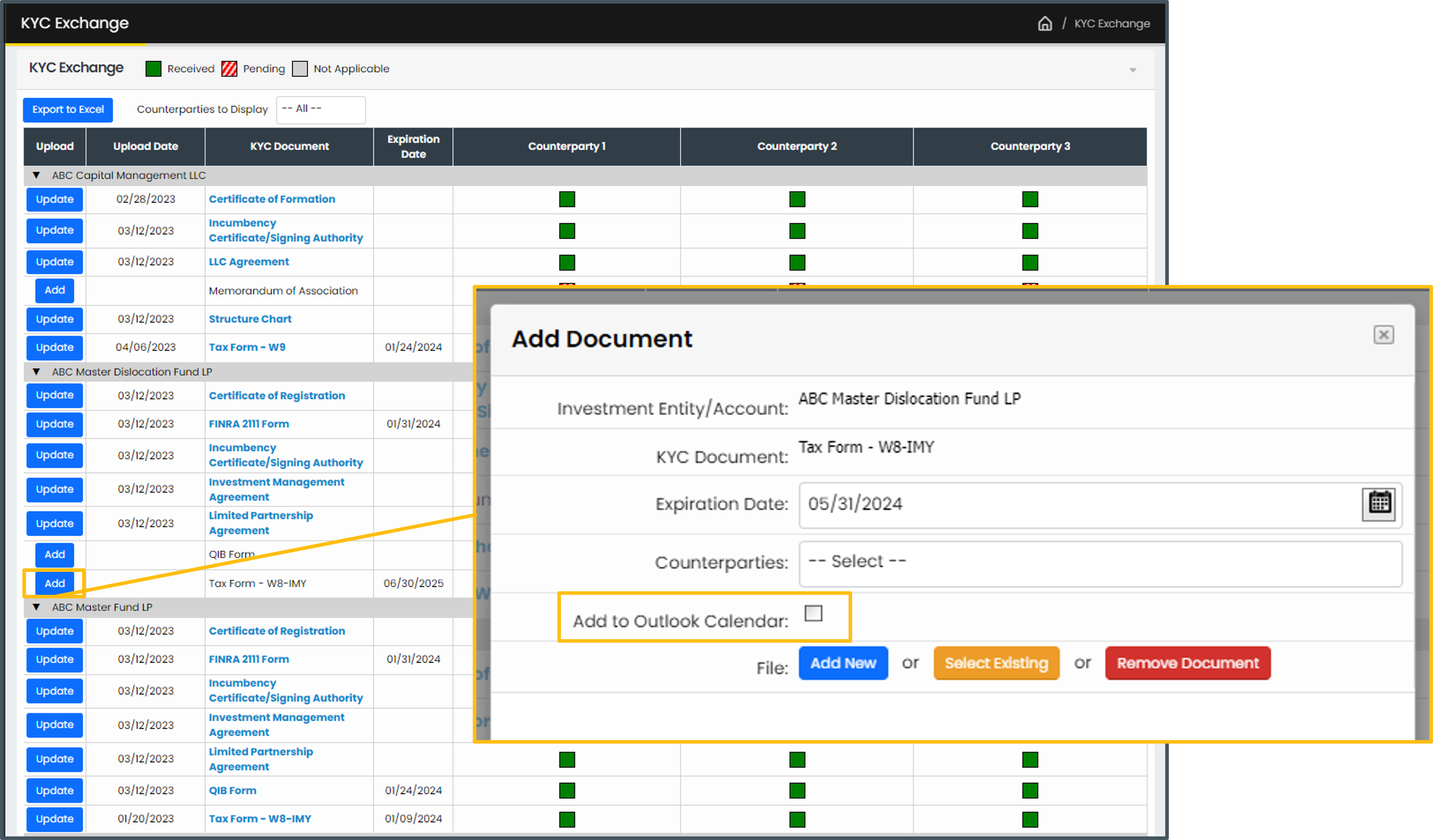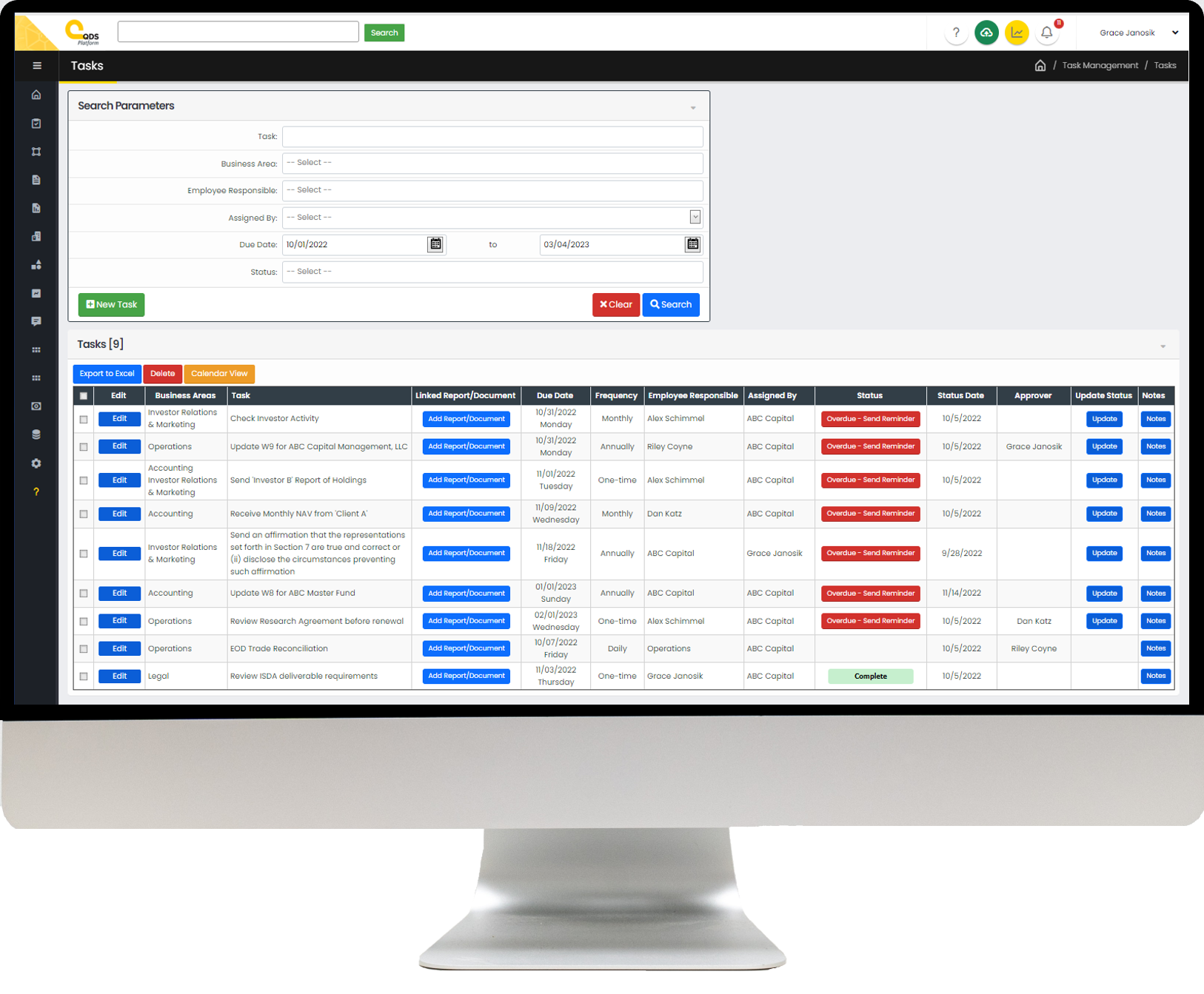 Task Manager
Manage your operational processes and compliance by creating tasks with the option to add approvers and sync to your Outlook calendar.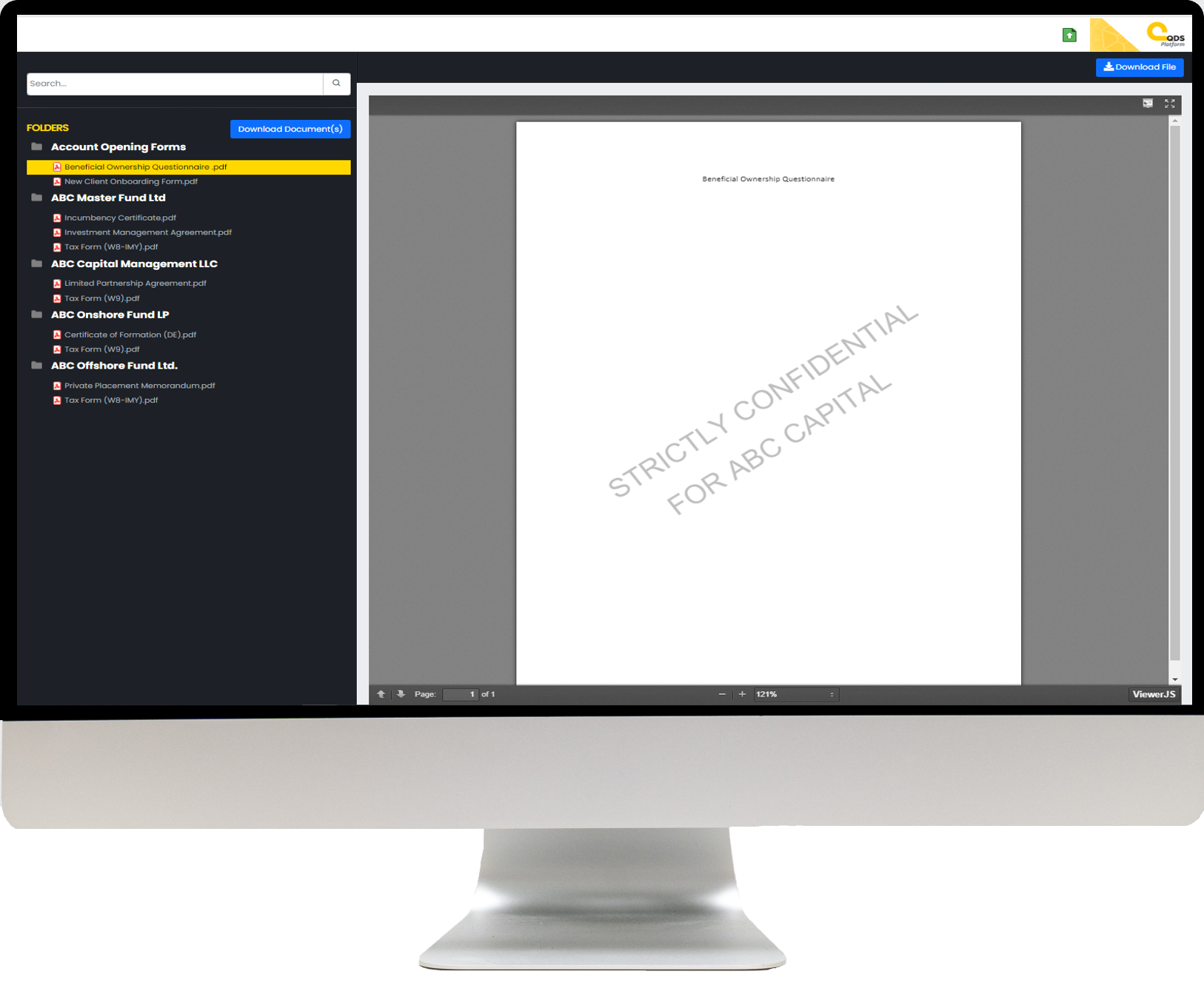 Virtual Data Room
Quickly and securely share documentation with new and existing investors and other third parties with permissioned access for end-users and optional watermarking.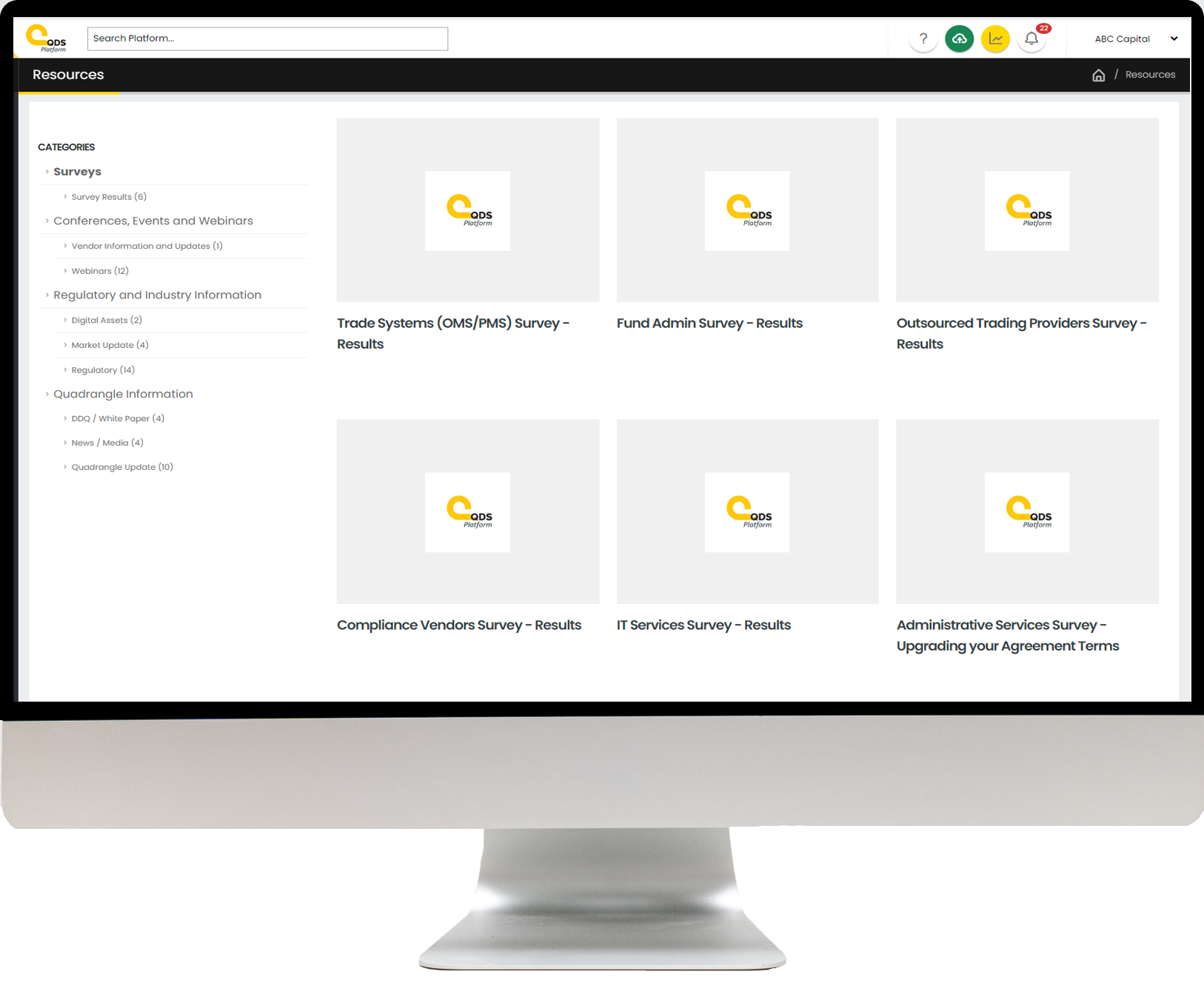 Resources
Access educational resources including surveys, webinar recordings, regulatory and market information, and Quadrangle updates.
A Look Inside: Task Manager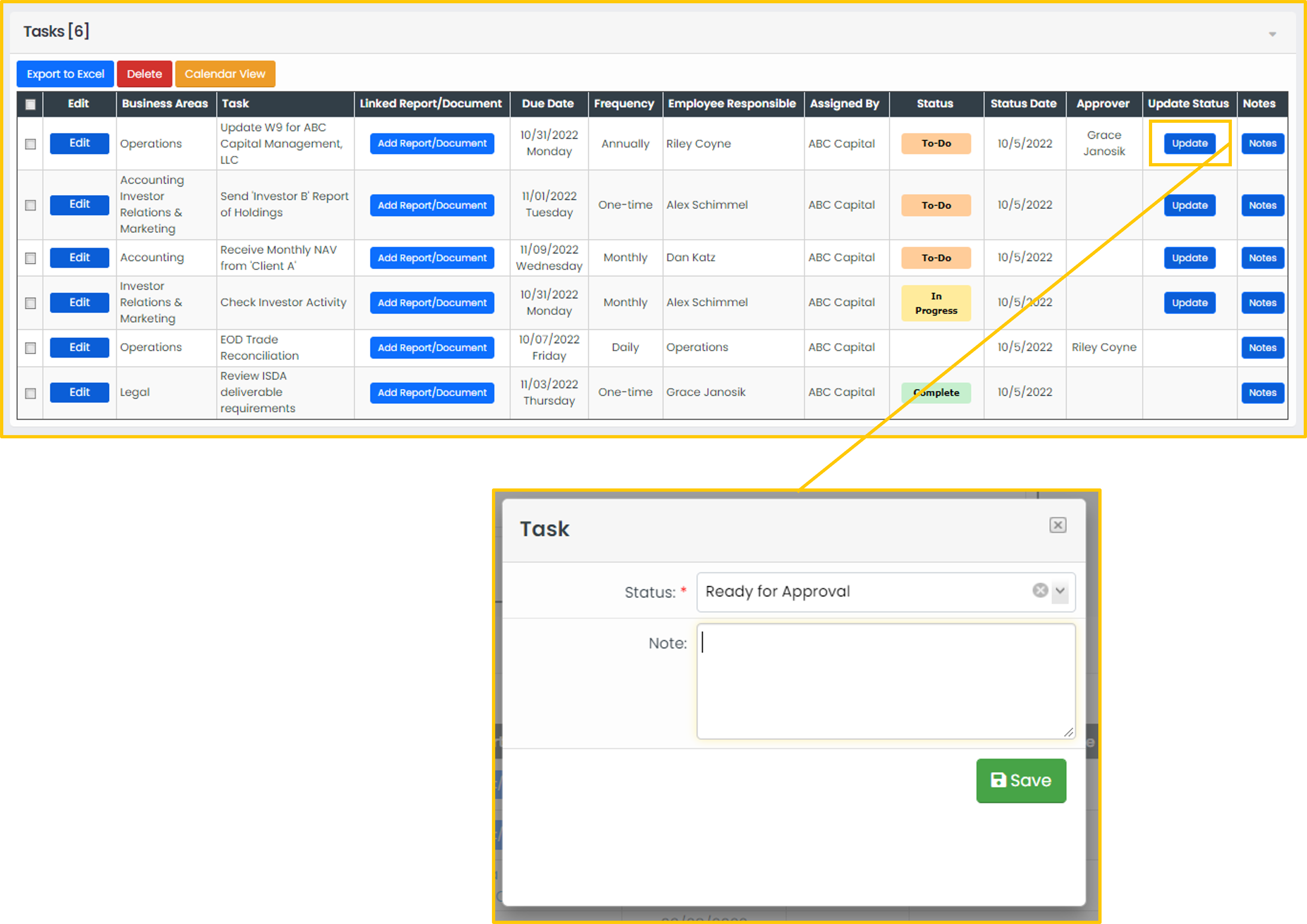 Easily view each task status & send overdue reminders.
Export list to Excel or access "Calendar View."
Access or add Linked Reports / Documents and Notes.
Click "Update" to mark a task as:

Complete
In Progress
To-Do
A Look Inside: Virtual Data Room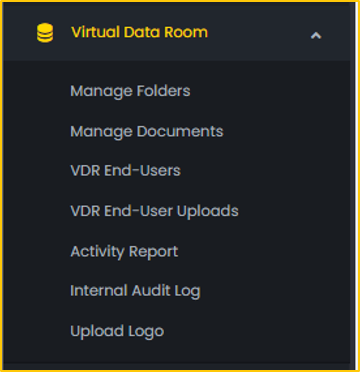 Before uploading and sharing documents, click 'Manage Folders' to create an organizational foundation through folders.
Label the name and preferred sequence for the folder to appear for end-user
Click 'VDR End-Users' to create new End-Users, identifying permissions for shared Folders and Start and End Date of Access.
Option to email End-User their Login info upon creating profile.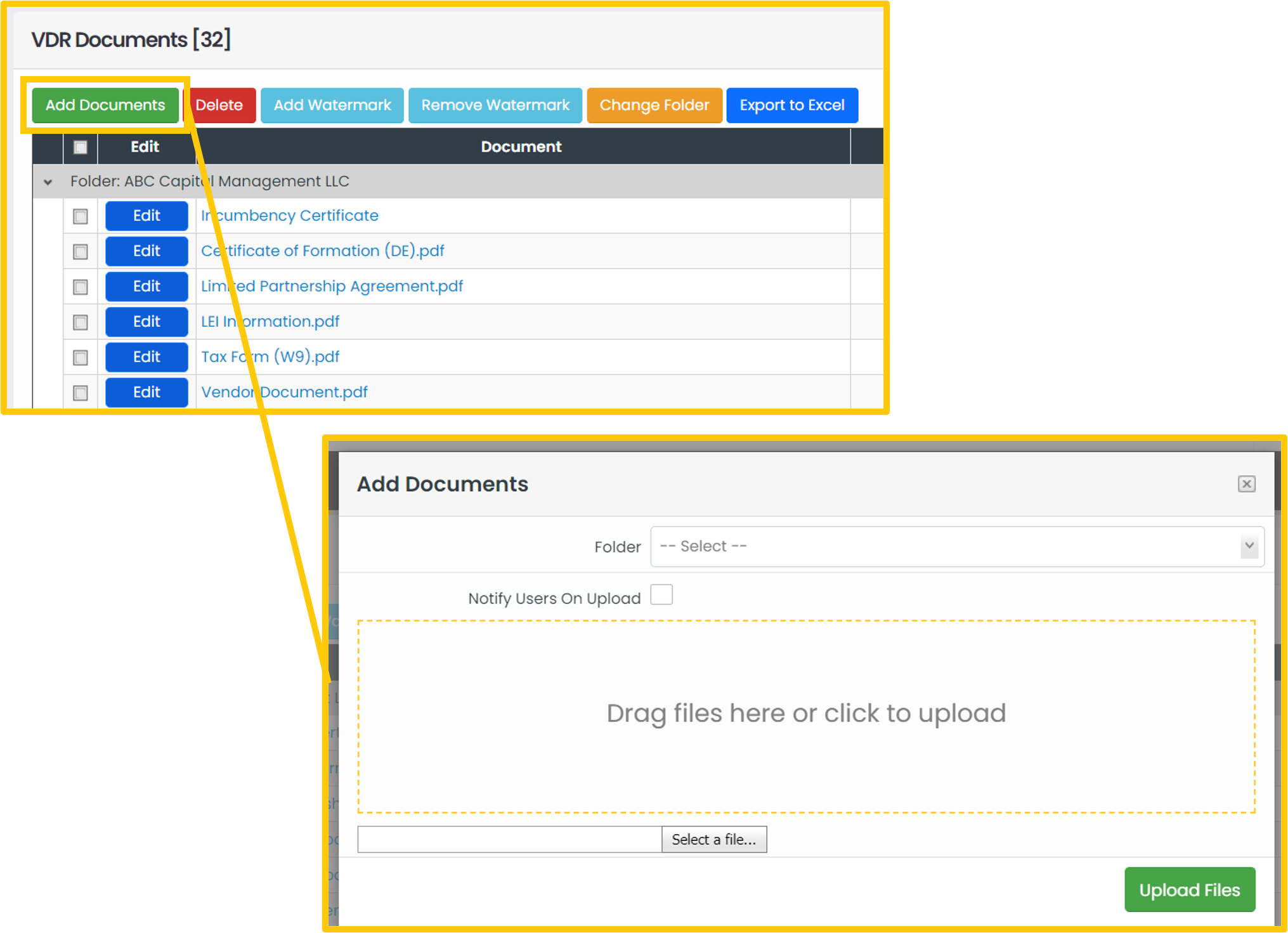 To add documents, identify the folder where the document(s) will be stored.
Upload documents by using the secure drag-and-drop feature or choose "Select a file…"
Check or uncheck to notify End-Users via email when uploaded.
Enable and disable dynamic watermarking by selecting one or more documents and clicking 'Add Watermark' or 'Remove Watermark.'
Permission individual documents as "View Only," "Restricted," or "Downloadable" by end-user.
View and monitor end-user activity through the Activity Report.
The activity report will show which End-User viewed the document, their company, which document they viewed, and the date and time that they viewed it.
Option to export to Excel.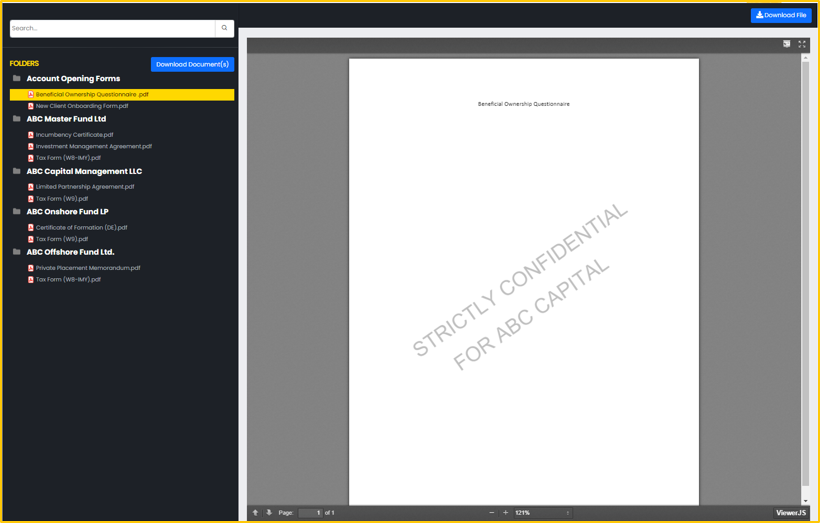 Preview each End-User's view following setup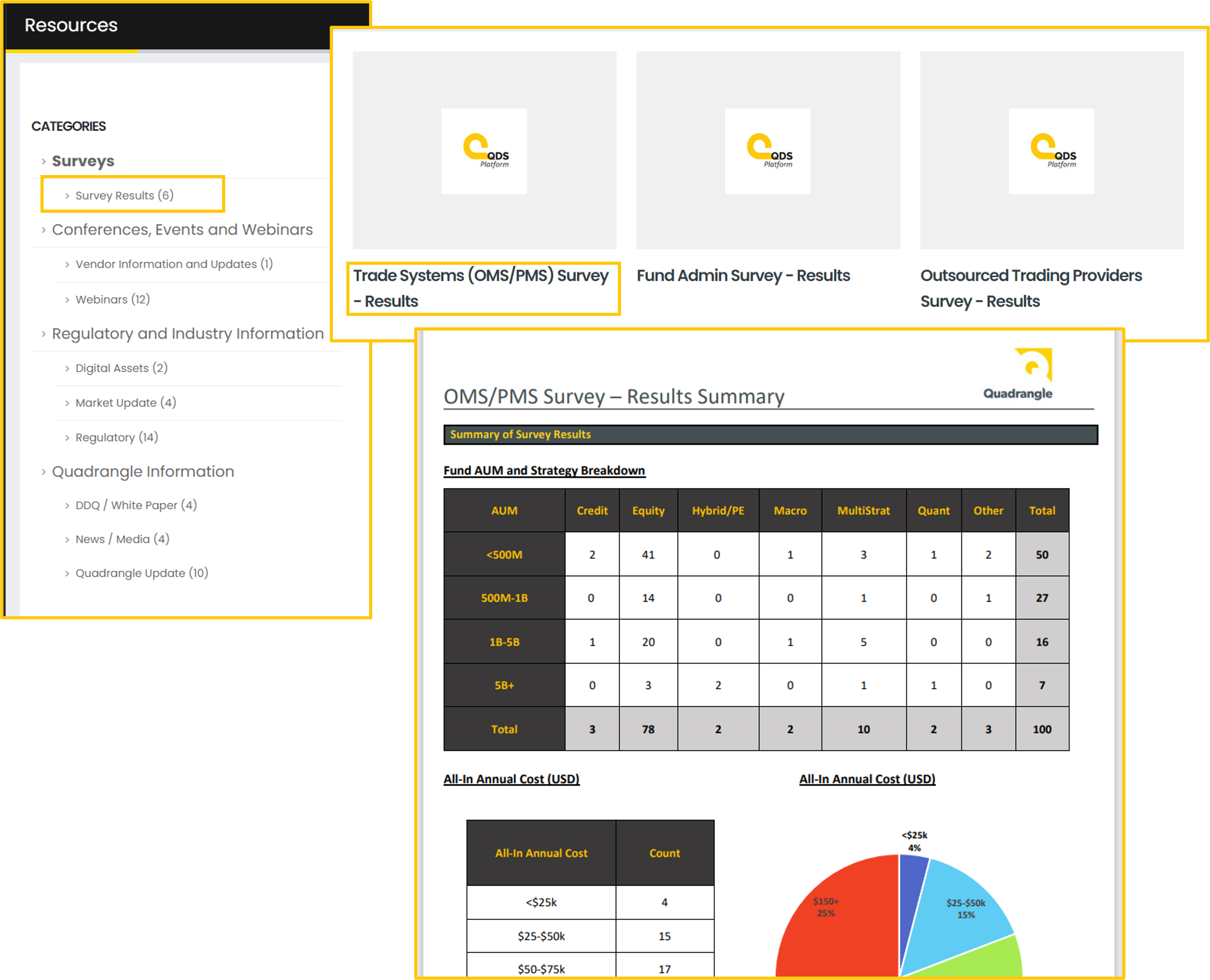 Resources contains Quadrangle's educational materials.
Access industry survey results for counterparties and vendors, seen here.
View details for upcoming conferences, events, and webinars, as well as recordings from past events.
View counterparty information including ratings, onboarding efficiency, and products and services.
Review regulatory and industry news and updates.
Access Quadrangle information which includes DDQ/White Papers, News and Media postings, as well as technology and firm updates.
contact us for a consultation