Hedge Fund Solutions & Services
Since 2013, Quadrangle has provided hedge fund solutions to some of the most sophisticated firms in the investment management industry. Our contract services and technology interface enable firms to increase efficiency and expand capabilities. Improve your informed decision-making with our customizable suite of hedge fund solutions.
Improved economic, legal, and credit terms.
Quantifiable savings of time and money.
Mitigated legal and economic risk.
Greater efficiency and business continuity.
Since our inception, Quadrangle has participated in hundreds of new hedge fund launches. From service provider selection, hedge fund contract negotiations, to document storage and management, we can assist with all stages of the launch, including post-launch advisory.
TRADE & FINANCING
NEGOTIATION
 QDS, our proprietary platform, is an industry-leading hedge fund software solution. It extracts and analyzes trade and financing agreements, generating reports for each hedge fund contract that allows stakeholders to track terms over time. Our legal and business teams identify gaps and negotiate new and existing agreements on your behalf to achieve preferred terms. We can also assist with selection and onboarding of additional providers as your firm grows.
VENDOR
NEGOTIATION & MANAGEMENT
After uploading your new and existing vendor agreements, Quadrangle extracts and analyzes terms to create term-by-term reports. Our legal and business teams review and negotiate to achieve preferred terms. Manage vendor contracts with notice and renewal dates synced directly to Outlook. Manage vendor relationships through our due diligence module.
SIDE LETTER & INVESTMENT
MANAGEMENT
AGREEMENT MANAGEMENT
Quadrangle extracts terms, creating reports linked to your documents related to investors, SMAs (separately managed accounts) and commingled funds. Our solution allows you to track variations, ensure compliance, and expedite negotiations of new letters and management agreements. With our custom reporting tools, you can easily compare terms across letters and agreements.
REGULATORY ADHERENCE
SUPPORT & ONBOARDING
For new and existing regulations, the Quadrangle team can facilitate the adherence process. We also assist with prefilling and review of account opening forms and exchange of KYC documentation as we negotiate each hedge fund contract.
CLOUD-BASED
DOCUMENT STORAGE FOR HEDGE FUNDS
QDS is an information hub that stores, tracks, and manages your trade and financing, vendor, and company documentation, providing secured and on-demand access. Our dynamic dashboards, customized reports and organizational tools create actionable analytics and promote business continuity.
A Look Inside: Hedge Fund Prime Brokerage Negotiation
With decades of industry experience, Quadrangle is proud to have provided counterparty and vendor management and negotiation services to a wide range of hedge funds and other firms within the financial services space. Contact us today to discuss solutions for your hedge fund.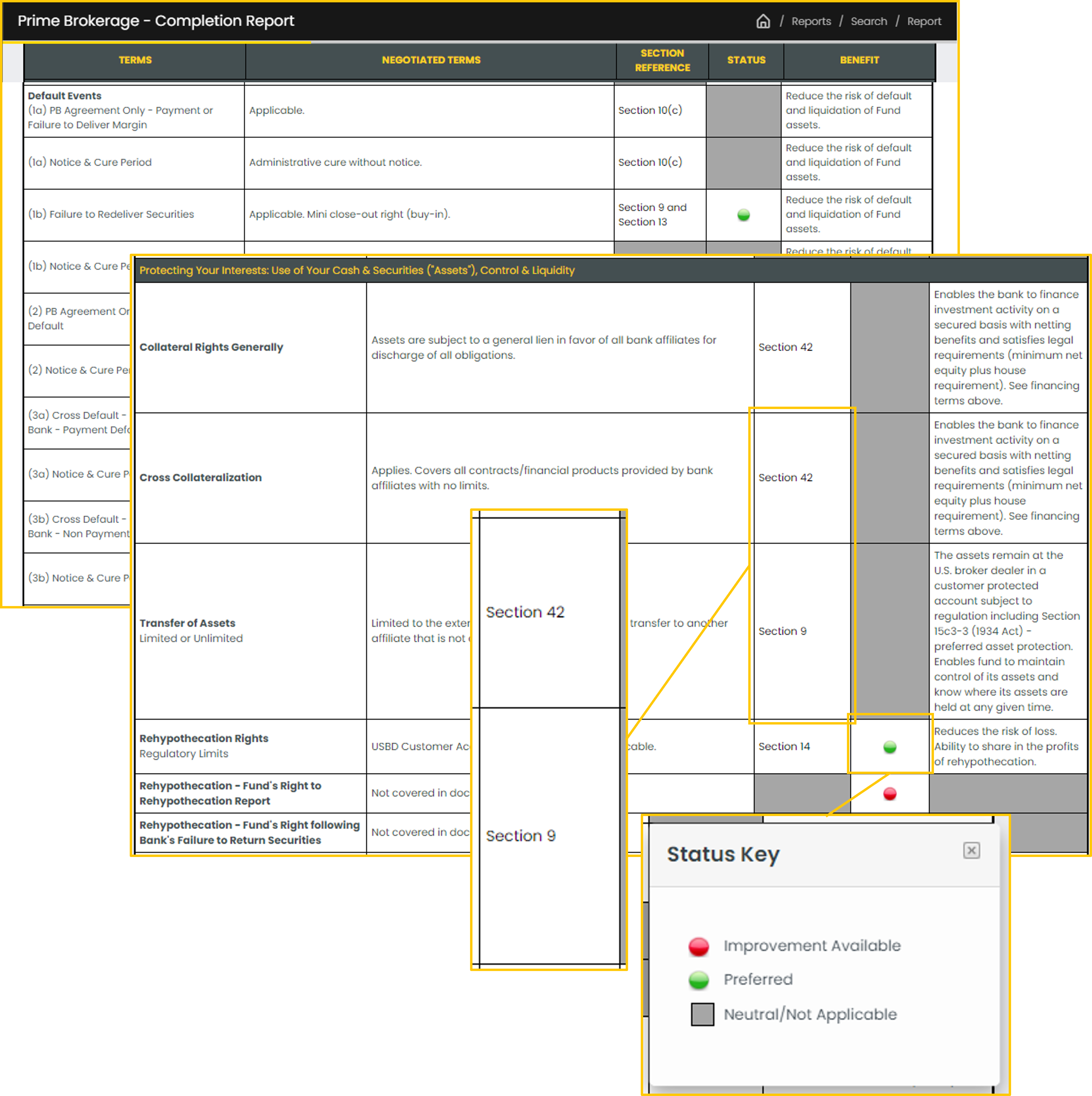 Upload your hedge fund's prime brokerage agreements into QDS.
Quadrangle will extract and analyze each term in the agreement against our extensive database.
We then create easy to digest term-by-term reports with section references to the agreement.
Our legal team identifies risks and quantifiable opportunities for legal, credit, and economic terms that can be improved.
Quadrangle can negotiate your prime brokerage agreements with your provider to achieve preferred terms, focusing on saving money and mitigating risk.
Upon completion, you have access to term-by-term reports linked to your contracts, via QDS.
Quadrangle is a leading provider of hedge fund solutions to the investment management industry.
contact us for a consultation