Prime Brokerage contract services
Since 2013, Quadrangle has been reviewing and negotiating prime brokerage agreements for some of the most sophisticated firms in the investment management industry. Other services include digitization, analysis, term tracking, and storage of prime brokerage agreements, enabling firms to increase efficiency, expand capabilities, and improve informed decision-making.
Preferred economic, legal, and credit terms.
Quantifiable savings of time and money.
Mitigated legal and economic risk.
Secured access to your contract terms.
Quadrangle has developed an extensive network of relationships with prime brokers across the industry, with a thorough understanding of the capabilities of its participants. We can match you with prime brokers that best fit the strategy of your firm and products in your book, providing introductions as necessary.
PRIME BROKERAGE
AGREEMENT NEGOTIATION
Our legal team negotiates with your prime brokers to achieve upgraded terms, focusing on saving money and mitigating risk. With our unique combination of data, technology, and expertise, our negotiation process is efficient and cost-effective, and you can be confident in the strength of your contract terms.
PRIME BROKERAGE
AGREEMENT REVIEW
Quadrangle extracts and analyzes contracts, generating reports for each prime brokerage agreement that enable you to track terms over time. We provide access to digitized, term-by-term reports, highlighting terms that can be improved, with direct links into the associated agreement(s). Easily access terms and compare across brokers.
A Look Inside: Negotiating Prime Brokerage Agreements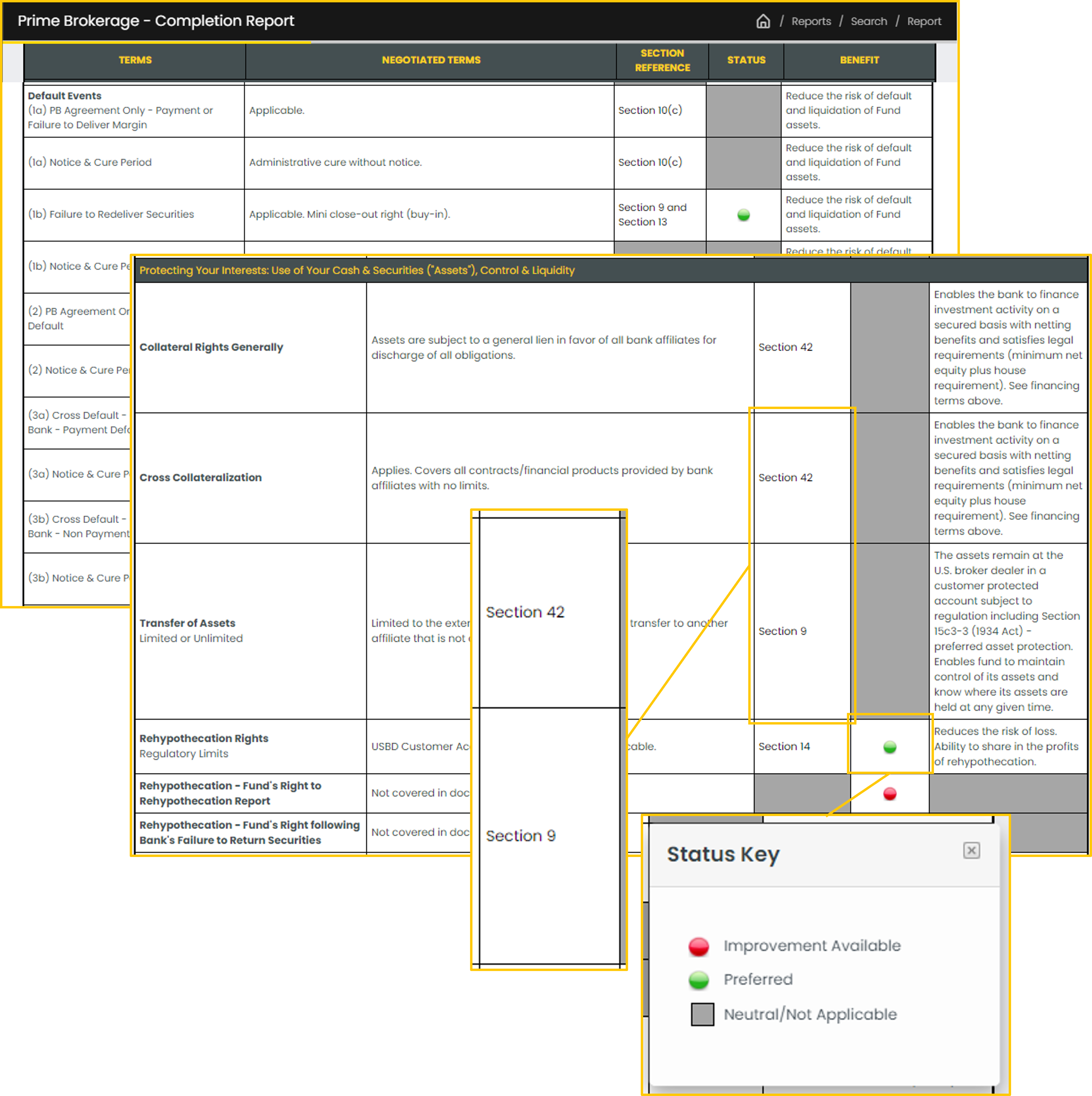 Quadrangle will extract and analyze each term in new and existing

prime brokerage agreements

against our

 

extensive database,

 

flagging terms that can be improved.
Quadrangle's term-by-term reports provide immediate and searchable access to your terms.
Section references

 

point to the contract terms in the agreement itself, and the status indicates whether a term can be improved.
Our legal team

 

negotiates

 

your prime brokerage agreements with your broker to

 

achieve preferred terms,

 

saving money and reducing risk.
contact us for a consultation