Quadrangle understands the varying needs of family offices and is a leading provider of family office services. Our customizable contract management offerings are tailored to each client, regardless of whether you're just setting up your office or need assistance refining existing processes. Our proprietary contract management software platform, QDS, allows you to organize your documentation and operational process, providing you more time to focus on your business.
Service provider matching and due diligence.
Quantifiable savings of time and money.
Mitigated legal and economic risk.
Greater efficiency and business continuity.
FAMILY OFFICE SERVICE
PROVIDER SELECTION
Quadrangle has developed an extensive network of over one thousand relationships across the financial services industry, gaining a thorough understanding of the capabilities and needs of its various participants. We have a broad perspective of the vendor and counterparty landscape and can match you with service providers that best fit your needs.
TRADE & FINANCING
MANAGEMENT
 QDS extracts and analyzes trade and financing agreements entered into by your family office, generating reports for each hedge fund contract that allow you to track terms over time. Our legal and business teams identify gaps and negotiate new and existing agreements to achieve preferred terms, focusing on saving money and mitigating risk. We can also assist with selection and onboarding of additional providers as your family office grows.
After uploading your new and existing vendor agreements, Quadrangle extracts and analyzes terms to create term-by-term reports. Our legal and business teams review and negotiate to achieve preferred terms. Manage vendor contracts with notice and renewal dates synced directly to Outlook. Manage vendor relationships through our due diligence module.
CLOUD-BASED
DOCUMENT STORAGE
Quadrangle's technology complements our family office services. QDS is an information hub that stores, tracks, and manages your trade and financing, vendor, and company documentation, providing secured and on-demand access. Our dynamic dashboards, customized reports and organizational tools create actionable analytics and promote business continuity.
A Look Inside: Service Provider Selection for Family Offices
Quadrangle is an industry leader when it comes to meeting the unique needs of family offices. Setting up and maintaining the investment arm of a family office can be a complicated and multi-step process, but with the right support from our expert advisors and management platforms, you'll be up and running in the most efficient way possible. 
Contact us today to discuss if your organization might be a good fit for our family office services.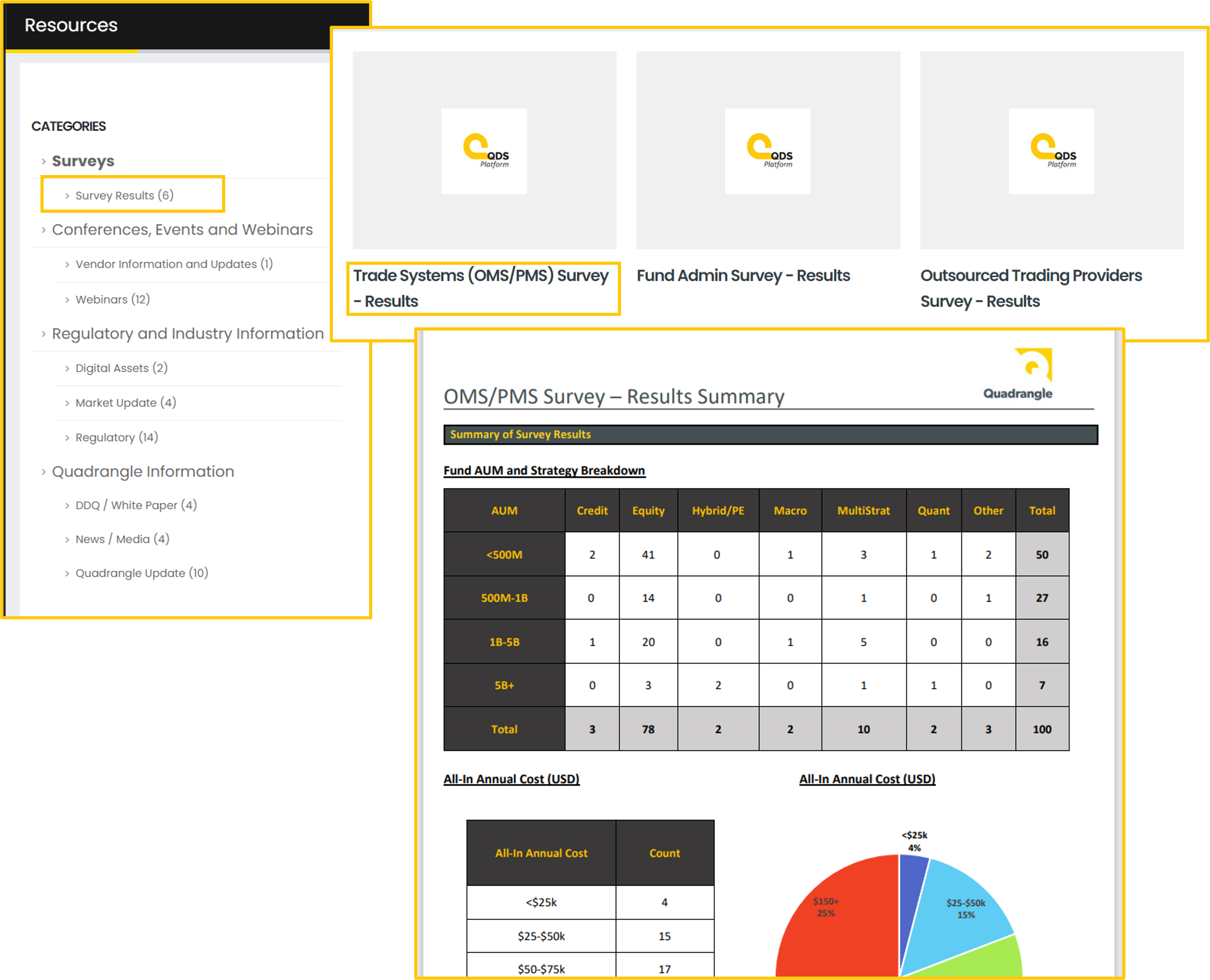 Quadrangle has an extensive network of service provider relationships.
Service provider selection is a crucial first step in setting up a family office.
We have an understanding of the strengths of major service providers, and can help you match with those that best meet your needs.
View numerous industry surveys stored in the Resources section of QDS that centralize the research for you on market share, cost,

and

customer service

and

technology ratings

.

We provide recommendations and introductions to services providers that will fit your business.
Quadrangle can assist in changing your service provider relationships and reviewing and negotiating existing agreements when necessary.
contact us for a consultation