Private Equity Firm Solutions
Quadrangle is a leading provider of private equity solutions and private equity management consulting, combining legal and financial subject matter expertise with a technology interface and extensive database to achieve material benefit for our clients. Since 2013, we have served hundreds of the most sophisticated members of the asset management community globally. We provide a customized suite of services for each private equity client, including counterparty and vendor management, contract negotiation, side letter & limited partnership agreement management and more.
Easily adhere to internal compliance requirements.
View term-by-term reports of crucial private equity contracts.
Access automated and trackable reporting for contracts and agreements.
Promote greater efficiency and maintain business continuity.
SIDE LETTER & LIMITED PARTNERSHIP
AGREEMENT MANAGEMENT
Manage side letters, limited partnership agreements, and investor relationships. Quadrangle extracts terms, creating reports linked to your documents. Our suite of private equity solutions allows you to track variations, ensure compliance, and expedite negotiations of new letters and partnership agreements. With our custom reporting tools, you can easily compare terms across letters and agreements.
After uploading your new and existing vendor agreements, Quadrangle extracts and analyzes terms and creates term-by-term reports for each private equity contract. Our legal and business teams review and negotiate each contract to achieve preferred terms. Through our proprietary software platform, you can monitor vendor contracts with notice and renewal dates synced directly to Outlook and manage vendor relationships with our due diligence module.
CLOUD-BASED
DOCUMENT STORAGE
QDS is a contract management software and information hub developed by Quadrangle that stores, tracks, and manages your trade and financing, vendor, and company documentation. QDS provides secure and on-demand access to your documentation where and when you need it. Our dynamic dashboards, customized reporting and organizational tools create actionable analytics and promote business continuity.
A Look Inside: Side Letter Management –
Periodic Reporting
As a leading provider of private equity solutions, Quadrangle offers an efficient and automated way to keep track of periodic reporting requirements through our QDS Platform software. Contact us today to discuss solutions for your private equity firm.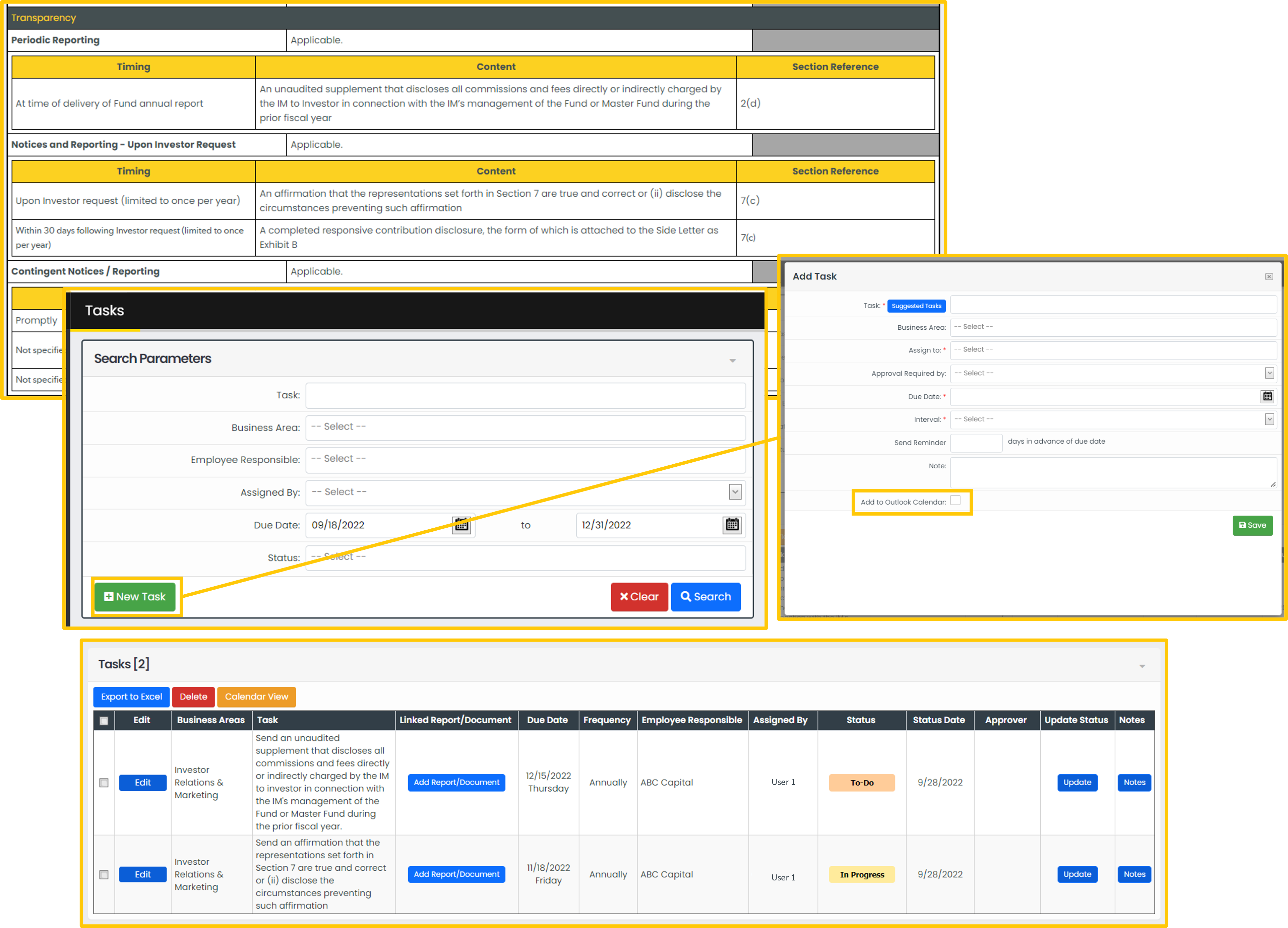 Upload your investor side letters into the QDS Platform.
Quadrangle extracts each term in the letter and creates an easy to digest, term-by-term report with section references to the agreement.
Quadrangle experts can help you connect your periodic reporting terms to your operational process with our Task Manager.
Create tasks for each periodic reporting requirement, with a deadline and optional approval.
Tasks are automatically linked directly to Outlook to ensure your investors receive the right reports at the right time.
contact us for a consultation