Quadrangle is a Leading Provider of Counterparty Management Software and Services to Hedge Funds and Other Investment Management Firms. We facilitate the entire contract review and negotiation process, with access to our subject matter experts and proprietary software solutions. 

Counterparty Contract Review
Quadrangle handles your counterparty management, beginning with a comprehensive review of trade and financing agreements. Our subject matter experts review your agreements, benchmarking them against industry data. Since inception, we have reviewed tens of thousands of contracts, covering all the major banks and dealers, culminating in millions of data points to analyze the strength of your contract terms. The QDS Platform automatically benchmarks agreements term-by-term, highlighting where improvements can be made, which we can help you achieve.

Counterparty Contract Negotiation
We negotiate a wide range of counterparty agreements including prime brokerage, ISDA, futures, repo, and digital assets agreements. Financial and legal subject matter experts coordinate with your counterparties and negotiate preferred terms, that save you money and mitigate risk. Our legal team consists of attorneys, with experience at investment management firms, law firms, or banks and dealers on the buy-side and sell-side. With access to our team of experts, extensive database, and market resources, you can be confident in the strength of your contract terms.

Counterparty Management Software Platform
The QDS Platform is our contract management software solution that securely stores counterparty contracts and documentation. When uploading documents, the Platform will tag search characteristics, such as fund, counterparty, counterparty entity, and agreement type resulting in a flexible search library. Clients are able to view and download term-by-term reports linked directly to associated agreements and amendments. You can also customize your own reports to compare any specific term(s) across multiple counterparties. Automated alerts for contract termination and renewal dates can be viewed in the notification center and synced with your Outlook calendar.
With decades of industry experience, Quadrangle is proud to have provided counterparty management services to a wide range of clients across the investment management and financial services industries. Let us know if your organization would like to discuss how our services might be a good fit for you. 
Allocators
Consultants
Cryptocurrency Funds
Endowments
Fiduciaries
Financial Advisors
Financial Institutions
Insurance Companies
Investment & Seeding Platforms
Registered Funds
Pension Plans
Venture Capital
A Look Inside: Counterparty Management
Dashboard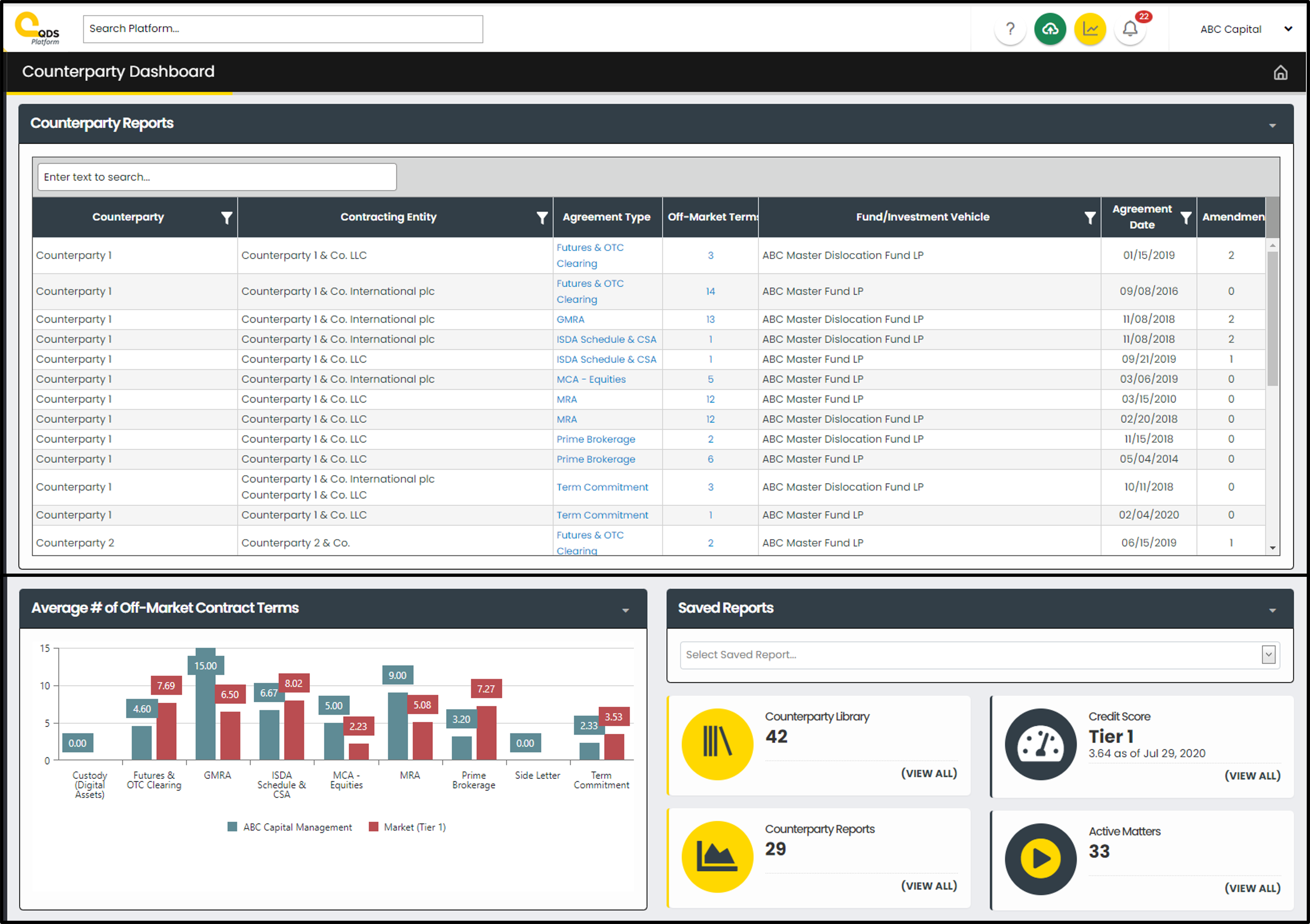 Our industry-leading software provides a comprehensive, customized solution for contract management.
View critical counterparty information at a glance on the Counterparty Management Dashboard and access detailed term-by-term reports.
Easily compare the number of off-market terms in your agreements to the industry.
Access custom reports via the Report Builder tool through Saved Reports.
Embedded links provide easy access to counterparty documents, counterparty reports, Workflow, and our Credit Score tool.