institutional asset managers
Quadrangle has worked with some of the most sophisticated members of the institutional asset management community globally. We understand the organizational needs of large firms, and QDS enables clients to focus their time and energy on their businesses.
Identification of duplicates and gaps in documentation.
Quantifiable savings of time and money.
Mitigated legal and economic risk.
Greater efficiency and business continuity.
Centralize all your trade and financing, vendor, and company documentation on QDS. Our legal and business teams can identify duplicates and gaps, tagging your documents and uploading into searchable document libraries. We provide secured access to your institutional asset management documentation from anywhere, at anytime.
TRADE & FINANCING
MANAGEMENT
QDS extracts and analyzes trade and financing agreements, generating reports that allow you to track terms over time. Our legal and business teams identify gaps and negotiate new and existing agreements on your behalf to achieve preferred terms. We can also assist with selection and onboarding of additional providers as your firm grows.
After uploading your new and existing vendor agreements, Quadrangle extracts and analyzes terms to create term-by-term reports. Our legal and business teams review and negotiate to achieve preferred terms. Manage vendor contracts with notice and renewal dates synced directly to Outlook. Manage vendor relationships through our due diligence module.
CLOUD-BASED
DOCUMENT STORAGE
QDS is an information hub that stores, tracks, and manages your trade and financing, vendor, and company documentation, providing secured and on-demand access. Our dynamic dashboards, customized reports and organizational tools create actionable analytics and promote business continuity for institutional asset managers.
A Look Inside: Inventory Consolidation Process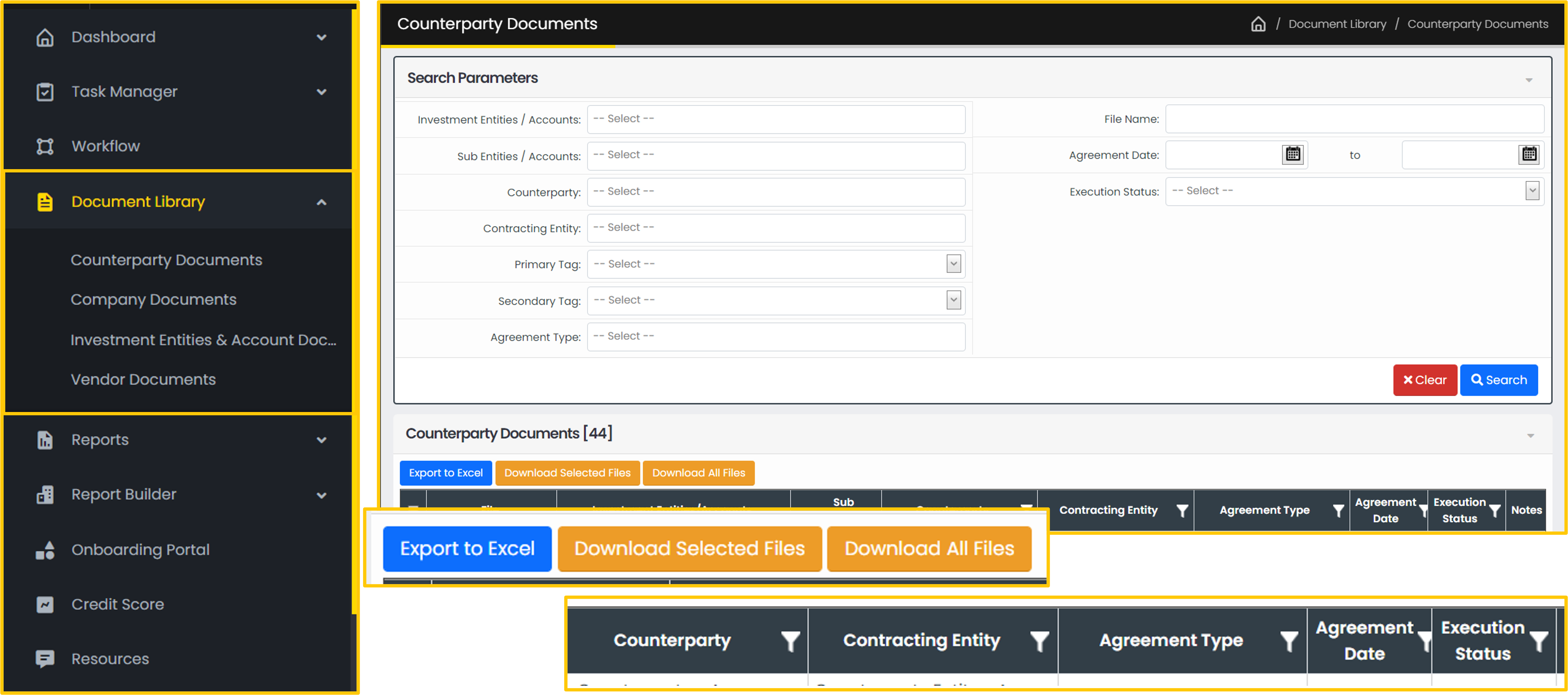 A common issue in institutional asset management are gaps and duplicates in documentation.
Send us your trade and financing, vendor, and company documentation to upload onto QDS.
Our legal and business teams consolidate your inventory to identify duplicates and gaps.
Each document is tagged and stored into one of four Document Libraries: (1) Counterparty Documents (2) Company Documents (3) Investment Entity & Account Documents (4) Vendor Documents.
Search results are filterable, with options to export your inventory, and download files.
Notice, renewal, and expiration dates are tagged, with reminders centralized in a Notification Center and synced with Outlook.
Quadrangle works with your team to develop normalized naming conventions to clearly identify documents by file name.
QDS offers secure access to your documentation from anywhere at anytime, with the ability to permission users within your firm.
Quadrangle offers a comprehensive solution to institutional asset managers.